Would you want Stephen Ireland back at Newcastle United permanently?
Words by Kevin Doocey on .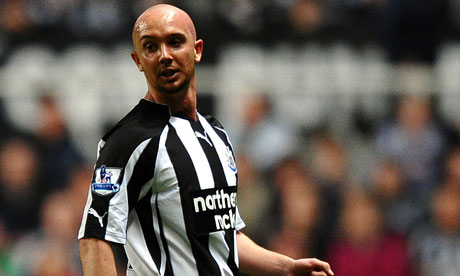 Ireland - Has raw talent but can he regain old form at St. James' Park?
There are emerging reports that Alan Pardew may well be interested in bringing Stephen Ireland back to St.James' Park on a permanent basis this summer. The Irishman, who had an injury plagued loan spell with Newcastle never really got going and played a mere 2 times for the club: both as substitute appearances. I think we all remember what a player this guy was only a couple of years ago; indeed he was awarded the Player Of the Year award at Eastlands for his fantastic endeavours throughout the season.
Since City were taken over by the foreign moneybags he was thrown out of the first team and was never to  return to action again.
Eventually as City continued to spend the ridiculous amount of money they have on a former Toon lad James Milner, Ireland went the other way - joining Aston Villa. Things didn't really work out for Ireland at Villa Park however, and with a managerial change in Martin O'Neill resigning and a clueless Gerard Houllier taking over; Ireland was between a rock and a hard place.
Clearly he enjoyed his time at Newcastle United - often commenting on how he loved the city, and the general feel of the club itself. In all honesty it was probably the first time he felt as if he was needed - since moving to Villa Park.
Unfortunately we didn't see the best of Ireland on Tyneside, in fact we saw very little of him due to calf, groin and whatever other injuries felt the need to arise during his spell.
Some Sunday newspapers are claiming that manager Alan Pardew could be interested in bringing him St.James' Park on a permanent deal this summer, but I fully suspect it's if other targets of ours get away from our grasp.
Again we have been linked with French players, this time Moussa Sissoko from Toulouse - who I'm sure most people know is a very talented young man, and I couldn't really see him opting to join us with other bigger clubs also interested in his services.
Add that to fact that we have been making enquiries for Blaise Matuidi as well. It would very much seem as if our top man Graham Carr is concentrating on France for signings, with 90% of players linked to us either French natives, or plying their trade in Ligue 1.
I wonder would Yoann Gourcuff be also interested in signing for us?! 😀
Ireland however, is the first guy in quite a while to be linked with us, and according to reports we could be ready to make a sneaky £2m bid for the former international. I for one would take the risk for £2m or so, and average wages but I really couldn't see Villa accepting a meagre offer like that for a player once tipped to become a hero in the Midlands. As well as that; there's a new manager at Villa Park if you haven't noticed, and Alex McLeish could well have big plans for the Cork native.
Either way, only time will tell - but I suspect there a lot more rumours to come!
What do you guys think? Would you like to see Stephen Ireland pull on the Black and White shirt next season?
Comments welcome as always 🙂
⚫️ ⚪️
---
Share Article On:
---
Filed Under: