Alan Pardew would be foolish to let Nile Ranger leave the club
Words by Kevin Doocey on .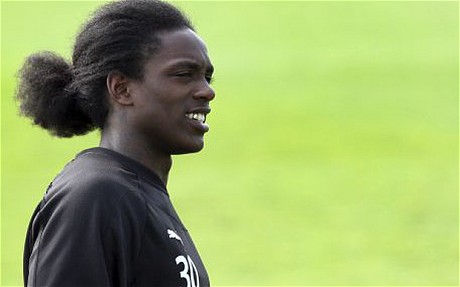 Ranger - Has a lot of potential and can become a top player at St.James' Park
He has a lot to learn the young man; how to conduct himself and eventually realise he is living the dream of many young boys. Playing for Newcastle United is an honour for any player. Nile Ranger is a 20 year old forward who has bags of potential; indeed potential to be as good as anything we've produced in quite a while - including Andy Carroll. A lot of people seems to think he would be better off far away from St.James' Park but there is a number of fans that see his potential; the hassle he causes for CB's when he comes on.
Of course many people point out his miss against West Ham in our five nil beating of them, a terrible miss agreed but I've seen worse - a lot worse. Those same people fail to mention or remember his performances against Liverpool, Chelsea and Arsenal in particular. All our goals against Arsenal came when Nile Ranger was brought on as substitute - and nearly assisted Kevin Nolan for the winner at the death.
There's little doubt that they guy needs some wising up - he has to begin to act like a professional footballer, not like some 'wannabe gangster'. Now let's not forget there's quite a few of those in football and in every sport but it's something that you'd expect to 'ware' off shortly after your teens. Nile Ranger isn't quite there yet - but improvements are being made.
Alan Pardew has warned Ranger on a couple of occasions about his conduct however it seems the 'gun poise' is the final straw for the hierarchy of this club and they are willing to move him on for the right price.
Only yesterday it was expected that he would complete a move to Blackpool however, personal terms could not be agreed and in short words - Ranger didn't have any intention in moving to Bloomfield Road on a permanent basis.
It's of little surprise to me personally to see Sam Allardyce sniffing about and considering a move for the former Southampton youth player. A physical forward that is good both in the air and with his feet - a dream player for the West Ham boss.
I certainly hope he doesn't end of moving to London, but the very fact it is London calling; the 20 year-old could very well be swayed, as would our board once a fee was agreed.
I see to be one of few people that have a lot of hope for Ranger. I honestly think he has immense potential and it's just unfortunate that he didn't score for us in the Premier League this season. There's no doubt in my mind that the youngster can make it in the Premier League and score goals on a continual basis. He is such a hassle for defenders when up against him - highlighted all season if you happened to watch when the English U-21 made a cameo appearance. Laurent Koscielny will tell you he's certainly a nuisance as we saw the Arsenal defender having to drag Ranger down when  racing away for a one-on-one at the Emirates Stadium. The deserved red card was then issued and as we all know - we recorded a very impressive away win with Chris Hughton in charge.
I hope we don't see Ranger leaving the club on a permanent basis this season; a loan spell in the Championship could show us what he's really made of and if that happens and he does indeed goal on loan - then come the end of the season a lot of people at NUFC might be thanking their lucky stars that they didn't let the 6'2 forward go.
Comments welcome as always 🙂
⚫️ ⚪️
---
Share Article On:
---
Filed Under: