Alan Pardew could be very close to cracking point as manager of Newcastle United
Words by Kevin Doocey on .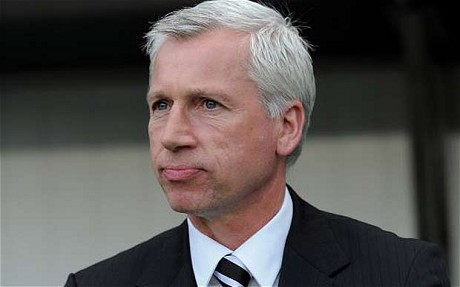 #### Pardew - Get the feeling all is not well under the covers at St.James' Park
It could well be just me, but I think there is something pretty serious going on at Newcastle United right now and it might not be very encouraging at all. Recent criticisms of the board and their regime have been well documented in the press the last week or so, with Jose Enrique openly venting his frustration at Mike Ashley and the lack of ambition show by the club. Then in the last couple of days Joey Barton seemingly took the baton from the Spaniard and also questioned the future of the club and it's stance on transfers. Again, the former English international confirmed he had no intentions of leaving Newcastle United anytime in the near future. As for Jose, I couldn't care less what he has to say much longer; he is just trying to maneuver a move for himself. In fact I'd be looking to sell the left-back before the window if we can because at the very least we deserve some cash for the guy; sticking by him in the Championship and all that.
Bringing it back to my headline however; am I the only one who thinks that there is something a lot more serious going on at the club than meets the eye? Every time the press talk to Pardew it's the same old story where he's trying to get two more players in, then it's one more signing, then a couple more additions and before we know it - the deadline is fast approaching.
I'm not sure how many times we've heard that hard work is being done behind closed doors to get players in, but I've a hunch, and a pretty big one at that, that Mr.Pardew is close to cracking point with Mike over transfers. I've no doubt Pardew has a list of players he wants, but I'd be fairly certain he has been given a cold 'No' on countless occasions so far on prospective signings.
It seems as if we're after a very certain player. A young, high potential star with large sell on value. I like that idea as mentioned before, and I'm fully in favour of it. However, sometimes you have to make allowances for a certain type of player. If there is a player out there that can add something to the team and he is 26 or so; providing he's available for a good price then sign him up. I think this might be the  case with Pardew, but Ashley is adamant on sticking with both his financial and player policies at the club.
In all honesty, it wouldn't surprise me if Alan Pardew resigned or was sacked in the coming weeks: it really wouldn't. I get that eerily feeling surrounding the club that I did in years gone by. Mike Ashley could be wearing Pardew's patience thin.
Maybe I'm being too negative but you have to prepare for all possibilities, especially as a Newcastle United fan.
Let's get things straight though - I'm not complaining about our transfer dealings this summer (much). We've already signed quality in Cabaye, Marveaux, Ba and seemingly Abeid as well. That is all very encouraging. In fact it sometimes sickens me to hear some NUFC fans moaning about guys we haven't signed, or who we could sign - simply because they either have no idea of the players we have actually signed, or because they're living in the past. We are no longer a force in the transfer market - grow up.
Personally I'm quite happy with the business we've done but we do need a couple more: predominately a striker. With Erding looking like he might stay we have to work towards other targets, and I don't mean Jermain Defoe or Peter Crouch. Stay well away from those two. Who does Alan Pardew turn to now? Any point trying for someone like Gabriel Agbonlahor?
That's my two cents on the whole last month or so anyway!
Comments welcome 🙂
⚫️ ⚪️
---
Share Article On:
---
Filed Under: