Where does Xisco stand in the middle of all these events at Newcastle United?
Words by Kevin Doocey on .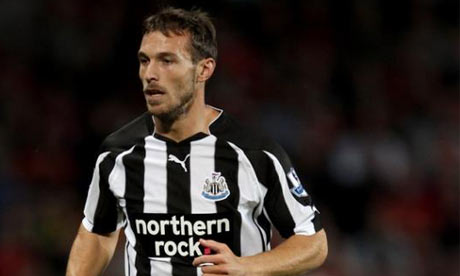 Xisco - Looking for a way out of the club but hasn't succeed in finding a suitor
He was the final straw in Kevin Keegan's last tenure at Newcastle United. A Spaniard brought in from Deportivo behind King Kev's back, and indeed another player recruited against his wishes. Xisco knew no better though, and is probably still wondering what is going on in what has been a very turbulent 3 years on Tyneside. Of course we as fans are looking for a striker to be signed before the end of the window but so many of us forget about Xisco and the very fact that he can play upfront. I felt quite sorry for the guy because it would have been hard for him to come into a team with little or no English and try figure out what the hell was going on at Newcastle United, with managers flying in and out of the revolving door at St. James' - but then I remembered what wages he was on and maybe the guy isn't too bothered at all as to what's happening at NUFC.
I was always in favour of giving him a chance but no manager seemed to hold the same attitude. The only real time he got on the pitch was with Chris Hughton in charge - at home to Hull City, away to Manchester United and a couple more cameos here and there.
Mind you, he scored on his debut so perhaps he isn't worthy of the abuse he gets from sections of supporters.
Whilst we've been chasing Mevlut Erding, Shane Long and a few other targets, there has been absolutely nothing in the news about Xisco. I can't say I've seen many pictures from pre-season training or anything but is it just me or has he disappeared for a while?
I could be wrong, and may have missed something - but there's no a huge amount news in the papers about him either.
I have no doubt the board are trying to find a new club for him, but seemingly they haven't had any success in doing that.
I'd give him another chance for sure - but apparently there's a clause in his contract  that if he plays a certain amount of games then another chunk of cash must be handed over either to him, or his former club: Deportivo la Coruna.
Does the guy still have a future on Tyneside?
Where will he end up?
Or; is he even still with NUFC?
Comments welcome as always 🙂
⚫️ ⚪️
---
Share Article On:
---
Filed Under: