No chance of Jermain Defoe or Roman Pavlyuchenko signing for Newcastle United
Words by Kevin Doocey on .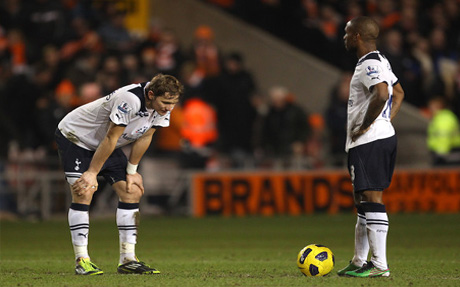 Linked - Defoe & Pavlyuchenko both linked to Newcastle United this week
I've noticed of late that quite a few websites are linking Roman Pavlyuchenko and Jermain Defoe to Newcastle United in a 'double swoop'. Both of these guys have been rumoured to be on Alan Pardew's wish-list since his arrival and I think it's fair to say that Jermain Defoe has been linked with a move to St.James' Park any time he hasn't been playing for Harry Redknapp's side. Both are pretty ridiculous rumours as there's little or no chance either of these will actually make a move to Tyneside and pull on the Black and White of Newcastle United. I laugh every time they're mentioned in a possible move to NUFC because I know it won't happen, and thankfully so.
Both Defoe and Pav are in decline as footballers - they have played their best football in bygone years and we as a club, are looking for players that have their best footballing years ahead of them. (Obertan, Cabaye, Marveaux, Santon)
Defoe is a top finisher no doubt about it; as we saw at St.James' Park a few weeks back. Give him half a chance and he'll bury it, with power and accuracy - he's a natural goalscorer. However, he also happens to be 29 years of age - much like the aforementioned Russian.
Newcastle United aren't looking for strikers nearly 30 years of age or who are looking to wind down their careers at some club with a decent wage packet every week. Graham Carr worked for Spurs as chief scout some time ago and would know what Jermain is capable of and I assume that the link between Defoe and NUFC happens to be strengthened by this very fact. With that said; it's not going to happen - I'd bet my bottom dollar on it.
Modibo Maiga is the man Newcastle United want in January and suggestions are that a deal has already been agreed between the two parties - with the Malian completing his move on the 2nd of January. Maiga is 23 years of age, costing about £6m and highly rated by our scouting team of Carr, & Norman Wooster. The website where the 'Spurs raid' rumour originated (I won't name because it talks utter nonsense) claims that Pardew will offer Spurs £20m for the pair of Defoe and Pav. Two 29 year old strikers on huge wages, injury prone, and costing £10m each? Or a potentially very exciting African 23 year-old forward who would look for modest wages, and is eager to come to NUFC. Do the math; there's only one winner.
Anyway, what are the odds of Mike Ashley handing over £20m for two players of that age? I'll offer 500/1 for starters..
Also, if you take the value of the stadium name change into account (£8-10m pa) then you'll notice that Newcastle United may well have the money for Maiga's transfer without dipping into their own resources. Self-sufficiency and all that.
Either way Defoe and Pavlyuchenko will not be coming to St.James' Park anytime soon, and thankfully so.
Old, overrated and over-paid - no thank you.
Comments welcome as always 🙂
⚫️ ⚪️
---
Share Article On:
---
Filed Under: