Graham Carr labels Mike Ashley & Derek Llambias as "fantastic people to work for"
Words by Kevin Doocey on .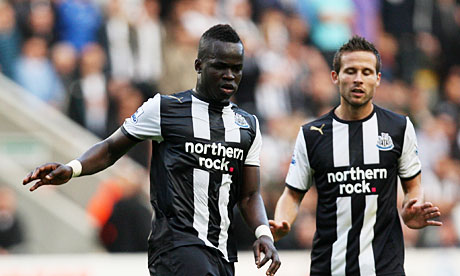 Signings - Tioté and Yohan Cabaye signings advised by chief scout Graham Carr
Despite the extraordinary outburst by Derek Llambias last night Graham Carr has only positive things to say about the two men that run this football club; Mike Ashley & Derek Llambias. Both are still seen as businessmen and their disregard for the supporters of this great football club is held against them, time and time again. They've made some ridiculous decisions in their time on Tyneside it has to be said but financially they've brought Newcastle Unite back on a sound footing and are hoping to break-even in the books this year.
It is clear that Ashley is somewhat running NUFC like his Sports Direct franchise - he has put his stamp on the club. Whether it's been the countless advertising, the two changes in the stadium name, the sackings and appointments at the club and indeed the player recruitment system that is now in place - Ashley has transformed this club, whether it's for the better - only you can decide. Personally, I'm in favour the majority that he has applied.
Another man who is clearly in favour of MA & DL is a certain Graham Carr who happens to be chief scout at the club. His recruitment process has seen the arrivals of Cheik Tioté, Yohan Cabaye, Sylvain Marveaux, Mehdi Abeid, Hatem Ben Arfa and the soon-to-be Magpie: Modibo Maiga.
The man has an impeccable taste in players and knows a good footballer when he sees one. Thanks to Carr, NUFC are getting value in the transfer market, establishing contacts with top European agents, and bringing players to this club that have a desire to wear the Black and White stripes.
In an interview, this is what Carr has to say about Ashley and co.:
"I can only speak for myself but they are fantastic people to work for."
"And, if I left Newcastle ­tomorrow, nothing could happen that would make me change my mind."
A very interesting opinion it has to be said. Carr clearly works well with the hierarchy of this club and I'd assume he is being quite well paid for it as well. Saying that, when you're responsible for recruiting players that are already showing their potential, and already worth double what they were acquired for, of course Mike Ashley would have a very good relationship with the Geordie.
There's still very much mixed opinions on the lads that run this club, and those against the Londoners will be referring to the foul-mouthed outburst by Derek Llambias last night, or whenever it happened to be, as proof of the ineptitude that is attributed to this guys.
Either way, Graham Carr holds a very high opinion of them and even if he was sacked in the morning 'nothing could happen that would make me change my mind'.
Comments welcome as always 🙂
⚫️ ⚪️
---
Share Article On:
---
Filed Under: