Tamás Kádár has a huge chance to revive his Newcastle United career
Words by Kevin Doocey on .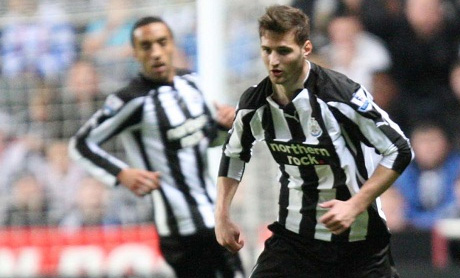 #### Duo - Chance for Perch and Kádár to stake their claims in the NUFC first team
Fourteen games into the Premier League campaign and we've managed the same back five for all of it. A proud achievement. However, towards the very end of our encounter with Chelsea yesterday afternoon Steven Taylor happened to damage his achilles and is to undergo surgery on Monday. The inevitability about it all is that Taylor, who has been one of our best players of the season so far , will miss the remainder of the season. A cruel blow for a guy who was beginning to show his potential as a worthy English centre-back.
Fabricio Coloccini suffered a thigh injury as well and could be out for up to a month: our crucial pairing at the back disrupted in the space of 90 minutes. With that said, there is a big chance for both James Perch and Tamás Kádár to stake their claims at the back as we approach the vital Christmas/New Year period.
The Hungarian is someone who will be thankful such events have occurred, and will now have an opportunity to work his way into the starting eleven. This is a guy who we signed at a very young age, with big potential and he even put his leg on the line to deny Sunderland a goal in a reserves match. His leg was broken in the incident but he claimed that it was all worth it, just to save the game for Newcastle. The guy deserves a chance if only for that deed!
I think he has potential to become a very decent CB. Mark Douglas and Lee Ryder have both reported that he had been fighting to save his NUFC career in the recent weeks and had made 'slight' progress - so much that he was in the squad for the Manchester United match at Old Trafford. The time has now come for both himself and James Perch, who impressed me a lot yesterday, to assume a grip on the vacant positions.
If they can manage to impress and keep their places then Mike Williamson, who is yet to return from injury, may face a battle to weave his way into the side once again. It was quite unfortunate that Williamson broke his arm earlier in the year, because otherwise he wouldn't be far off the starting 11 at all. He happened to be one of the starters in the historic 4-4 draw at home to Arsenal last season.
I think its fair to say that James Perch is guaranteed a starting role away to Norwich City and it'll be a big challenge to for him. Grant Holt will be difficult man to handle whether he starts or comes on as substitute and you can be sure that the Carrow Road outfit will get the ball to Holt's head at every possible opportunity - keep an eye out for it.
Whether Santon will start CB I'm not quite sure but it's a possibility. Kádár may be a couple weeks away from first team action yet but before this Christmas period is finished: he'll have his chance in a Black and White shirt for sure. Let's hope he takes it.
Comments welcome as always 🙂
⚫️ ⚪️
---
Share Article On:
---
Filed Under: