Newcastle United must attack Norwich City from the start tomorrow
Words by Kevin Doocey on .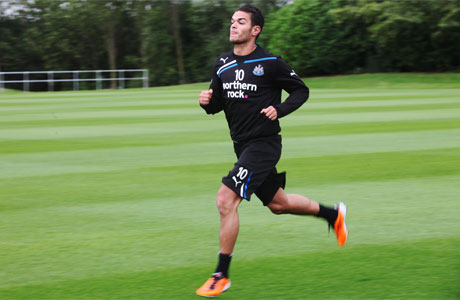 Ben Arfa - His creativity and pace crucial for NUFC tomorrow at Carrow Road
Norwich City will most definitely fancy their chances of gaining all three points in tomorrows battle at Carrow Road and rightly so. We're without Cheik Tioté, Danny Guthrie, Steven Taylor, Mike Williamson and more than likely Fabricio Coloccini as well. Four big losses in that injury list, indeed four members that probably would have started tomorrow. However, we will welcome James Perch into the one of the defensive roles; whether Coloccini will make it is still unknown, but if unavailable, we might see Kádár or Santon fill the void.
Paul Lambert's team are quite a neat outfit. They pass the ball on the deck as much as possible from what I've seen of them this season. They'll give it everything tomorrow and can imagine, as mentioned in a previous article, that they'll whip the crosses in from either wings for Grant Holt who will give James Perch a tough time tomorrow for sure.
The last we went to Carrow Road we had Patrick Kluivert up front, it doesn't seem that long ago. does it?
Tomorrow, we will have Demba Ba and probably Ben Arfa playing just behind him in a supporting role. If we are allowed to play the game we can then expect to see Hatem on the ball a lot, running at their defence. Saying that, Pardew may look to start Shola Ameobi for his physical presence alongside Ba - we'll know tomorrow.
We cannot go to Carrow Road and hope that we can snatch a one nil. It won't work. They're going to come at us, and being at home, their fans will act as the 12th man.  Hopefully we can match their tempo and pile a fair amount of men forward.
They are vulnerable at the back alike us, and if Demba Ba gets half a chance I'd be confident he'll finish it.
It's the 'getting the chance' that will prove hardest. Cabaye and Gosling are expected to be the midfield pairing, with Jonas and Obertan either side. Gutierrez will have a massive job to do tomorrow just in front of Ryan Taylor.
I'm certain that if we attack there'll be goals and we'll have a good game on our hands.
I am also quite confident we will give it everything from start to finish, considering we went to Old Trafford and the Etihad Stadium looking for more than one point. If we do that, I cannot see us losing.
With that said; it is a difficult tie and always has been. Away to newly promoted sides is a tough feat for any team in the league but we have to enter it positive. If anything is going to encourage us, it's the fact that Norwich City have conceded a goal in every Premier League game this season: let's hope that trend continues tomorrow.
How will we get on?
Comments welcome as always 🙂
⚫️ ⚪️
---
Share Article On:
---
Filed Under: