The most worrying thing as a Newcastle United fan right now
Words by Kevin Doocey on .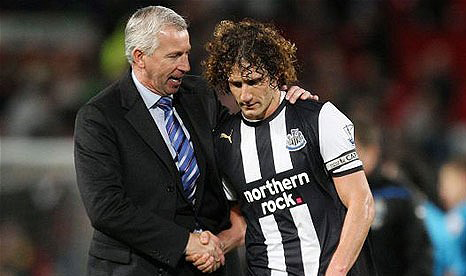 Coloccini - We need to make sure we sign this guy down for the rest of his career
There is very little to be worried about as Newcastle United fan at the minute, especially as we lie sixth in the table, a solitary point off a Champions League spot. The fantastic season we've had so far has come down to a great team effort, and one of the performers of the campaign so far is without doubt Fabricio Coloccini. When the Argentine arrived at St.James' Park during Kevin Keegan's ill-fated tenure; we thought we had wasted £10m on a flop. However, after a couple of seasons, including one in the lower ebbs of English football - Coloccini has emerged as one of the best centre defenders in the Premier League. I can't think of anyone better than Colo this season, between his consistency and leadership at the back; he's without doubt on the best defenders Newcastle United have had in some time.
Coloccini was one of few that managed to survive the chop when Newcastle United were relegated those years ago, with a lack of interest in him, and the fact that Chris Hughton wanted to keep him at St.James' provided him with a place to stay for the next couple of campaigns.
Now as we enter a weeks break from NUFC in action I would hope that Pardew and Ashley will put the finishing touches to a contract that will see Coloccini finish his career on Tyneside and possibly even remain on as a coach when he does hang up his boots - which we hope won't be for a very long time yet.
I'm a little worried about the situation we are facing. Talks happened between Newcastle and Coloccini's agent only a month ago but it's understood that no agreement was reached, and there was a stand-off so to speak. Negotiations are expected to resume shortly and indeed Mike was in town to discuss the very topic of contracts with Pardew and his men, so we are hopeful that an agreement can finally be reached.
With Alan Smith set to depart Newcastle in the summer, that will see £60,000 off the wage-bill - more than enough to allow us to secure Coloccini's contract. The Argentinian international is rumoured to earn around £50,000 a week, and I can only assume he wants a little bit more before he agrees. Even if we give him sixty thousand a week (mental wages to say the least), then we will still have saved money from Smith's departure.
In fact - I would be surprised if this isn't the very reason talks are being delayed even further, possibly on Newcastle's side.
The last time we faced a problem like this was when Kevin Nolan failed to agree a new contract and departed to West Ham.
The contract talks had been ongoing and very close to a conclusion until they finally failed and Kevin left for London.
His five-year contract runs out early 2013 if I remember correctly which gives us some time - but I just want things tied up and settled very quickly, something I am sure most other Newcastle United fans desire as well.
Here's hoping for good news on that front, for Colo and Danny Guthrie as well.
Comments welcome 🙂
⚫️ ⚪️
---
Share Article On:
---
Filed Under: