Demba Ba will keep 50% of transfer fee received should he leave Newcastle United
Words by Kevin Doocey on .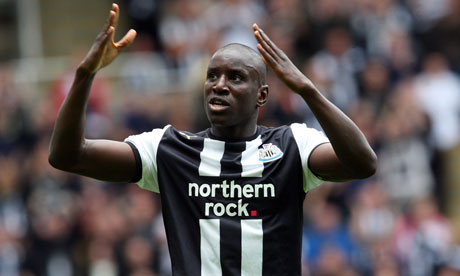 Ba - Has quite a peculiar contract and a slightly worrying one for NUFC
There is some pretty interesting news coming from West Ham owner David Sullivan in the past day where he opens the lid on Demba Ba's contract. The most staggering part of the interview with Iain Dale over at WestHamTillIDie is Sullivan's claim that Demba Ba will receive half the transfer fee for himself should the Senegalese hitman move away from St.James' Park. In terms of contracts; this is outrageous stuff and surprising to hear that Mike Ashley agreed to these details when signing the forward. As well as the 50% transfer fee clause; Ba's agent also bagged himself £2m in cash when he agreed a move to Tyneside - Alan Pardew's constant reference to agent fees in the our summer transfer moves very understandable now.
Although Demba has no intention of moving anywhere any time soon - I have no doubt some of the 'bigger' clubs will come knocking in summertime. The likes of Spurs, Arsenal and even Liverpool will try their luck with his release clause and in terms of value, £7m is well worth a shot - especially when you've dished out £35m for Andy Carroll.
First and foremost I think it is pretty arrogant of Sullivan to comment in such detail about Demba Ba's contract at Newcastle United as he may not know the full details, or even if he does; has no right to disclose them to the general public.
I'm sure the Newcastle United hierarchy including Alan Pardew will be fuming over this, should his accusations be spot on regards the forwards contract.
There's nothing much more to say, you're better going over and reading the interview yourself right here and making your own judgements.
One thing is for sure - some of the bigger media outlets will grab on to this 50% fee conundrum and pump it out on the national front.
Wait and you see.
We hope it's not true, but it certainly wouldn't surprise me!
Comments welcome as always 🙂
⚫️ ⚪️
---
Share Article On:
---
Filed Under: