Hatem Ben Arfa has the potential to rip apart the Premier League
Words by Kevin Doocey on .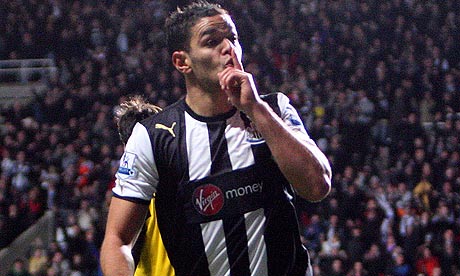 Ben Arfa - Has raw potential that needs harnessing by Alan Pardew & NUFC
I think it is fair to say that when Hatem Ben Arfa came on for Newcastle United against Sunderland on Sunday; the Geordie faithful felt he had the potential to rescue what was an impending disaster. We weren't wrong. The Frenchman gave Kieran Richardson one of the hardest times he'll get all season from anyone on the wing - tearing him to pieces over and over again. He added that much-needed flair on the wing that we lacked for the first 45 minutes, and as much as Shola Ameobi is the undisputed derby hero - Benny put in a sterling performance. A performance that I hope we see a lot more of in the coming weeks.
The headline might seem a tad sensationalist but it's not far from the truth. Ben Arfa, with his guile, agility, touch, pace, and passing range has the ability to cause massive problems for any team in the league. We saw him have a very good game away at  Manchester City in the 3-1 loss, hitting the post, with his direct running at City's defence causing havoc for Mancini's men.
Almost every football fan in England and Europe has seen his goal against Blackburn Rovers in the FA Cup, dribbling past countless men before cutting back, and powering the ball beyond the despairing keeper. Alan Pardew described it as the best ever goal he'd seen live - and although I didn't have the pleasure of being at St.James' Park to witness it in real-time; I would still consider it one of the best solo efforts I've seen.
He was impressive away at Bolton Wanderers as well, scoring a very important goal that helped us on our way to an excellent 2-0 win.
However, despite all that, the Frenchman has had some poor games in a Black and White shirt too - sometimes lazy, and greedy on occasions.
Remember, only a while ago Ben Arfa was recovering from a broken-leg, suffered away at Manchester City - and a horrific injury it was.
However, he has come back seemingly stronger than ever and slowly but surely is coming back to his utmost potential.
The truth is, on his day, Hatem is one of the most creative and skillful players you'll watch, or indeed come up against.
I think it's fair to say that we all hope Alan Pardew finds a spot for this guy to start from the first whistle, and can link up with Pappis Cissé and Demba Ba. Those guys in attack on their day, are as good as any attacking trio in the top 7.
The question is - who do we sacrifice to accommodate Hatem?
We can't afford to lose a defender in my opinion, and Cabaye and Tioté are important first teamers. Does Ryan Taylor drop to the bench? Probably not. Jonas? Unlikely, as he is considered one of the main men in the team.
So where does this guy fit in?
My choice - swap Taylor to LB, Santon to RB - and replace Simpson with Ben Arfa, sticking him on the wing.
Santon and Ben Arfa bombing up and down the wing is an exciting prospect for sure.
We all know Ben Arfa has the potential to become one of the best attackers in the Premier League - is it a matter of time? Or will it be another NUFC player unable to fulfill their true potential. Somehow, I think we haven't seen the best or last of wor Benny.
Comments welcome as always 🙂
⚫️ ⚪️
---
Share Article On:
---
Filed Under: