Does this midfielder have a future at Newcastle United?
Words by Kevin Doocey on .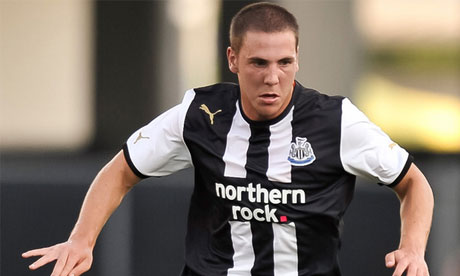 Gosling - Can he challenge Cabaye or even Guthrie for a first team position?
When Newcastle United announced the signing of Dan Gosling I must admit that I was quite excited, and thought we have pulled of a sort of coup. Not that my opinion has changed or anything, but it seems as if Gosling might have an extremely hard time trying to crack the midfield four that currently line out for Newcastle United. Injuries didn't help the young man settle when he first arrived, and the appointment of Alan Pardew might not have aided the former Plymouth Argyle in his push for first team football either. However, we have seen the gaffer introduce Gosling, and even start him on occasions this season. Away to Sunderland at the end of last season, and indeed this season as well - against Manchester City at the Etihad, and away Norwich earlier this year to name a few.
With that said - if Cabaye, Tioté and even Guthrie keep their hold on the team then it's hard to see where Dan might fit it. Mind you, it is also worth noting that he is quite versatile and has played at right-back before. Predominantly however, he is a central midfielder and likes to have plenty of the ball.
He has a lot of potential, and was brought to St.James' Park with that in mind. Whether a loan would be useful to him I'm not sure but I doubt it; he is ready for first team football, but perhaps not on Tyneside just yet.
He played, scored and got sent off in a reserve match against Sunderland last night, a match which has been in the news thanks to some fools who decided it would be a good idea to rip off bits of Sports Direct signs in the East Stand, and fire them pitch-side.
Anyway, regardless, it was good to see both Gosling and Gabriel Obertan get some match time under their belt and keep the fitness levels up. I get the feeling that the duo will have some part to play in our season yet, for various reasons.
We know Gosling has potential, and is more than a squad player however, can he establish himself in the Newcastle United first team for next season?
What do you guys think?
Also, make sure you check out my article on Newcastle United's European hopes and why I think we might just falter at the line this time round. Any comments regards that article are welcome on here and feel free to share or Tweet it! Thanks.
⚫️ ⚪️
---
Share Article On:
---
Filed Under: