West Brom vs. Newcastle United – What we can expect from Hodgson's side
Words by Kevin Doocey on .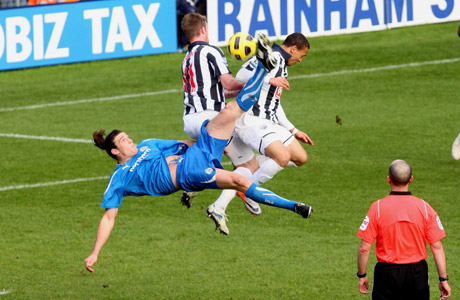 Brom - Happened to be Chris Hughton's final game in charge of NUFC
The last time Newcastle United met West Brom at the Hawthorns we were on the end of a 3-1 loss, courtesy of Peter Odemwingie & Simon Tchoyi. Peter Lovenkrands managed our only goal in that game, indeed what turned out to be Chris Hughton's final game in charge of Newcastle United. Things really have changed since then and we are going to West Brom with a different team , a different manager and an improved league position. The Baggies on the other hand also have a new league position, new players and a different manager in Roy Hodgson as well. Ourselves and Brom gained promotion in the same season and managed to avoid relegation to complete two successful Premier League campaigns. Their home form might not be fantastic, but if you follow football betting tips then you will know that West Brom are favourites to win the tie.
The real question is what we are up against on Sunday; what we'll have to do to manage points away from home, and hopefully add towards our European push.
Hodgson is quite an astute manager and tends to enjoy success with the smaller clubs, turning average players into hardworking solid athletes. Keith Andrews is quite a good example from January alone.
It's going to be a very tough game from the start and we'll need to score early if we want to grab all 3 points - at least that's what I think.
Roy will have his lads revved up for the game, and there are a lot of players looking to secure a seat to Poland to EURO 2012 so they'll have a determination of their own added to all of that.
Tioté may return to the starting line-up, and we'd certainly welcome him back for it as well - he is crucial to our potential 3 point scalp. Brom have a decent midfield but I think we'll oust them in that department should we have our desired midfield pairing of Yohan & Cheik.
Defensively, Hodgson keeps things tight at the back with Olsson pretty reliable - and he has the ability to nick a goal from a corner as well.
Up front Odemwingie is fighting for a chance to play, and as we know from seasons gone by; he's a very dangerous fella if allowed space and time.
All in all, to sum things up - we're for a tough one at the Hawthorns. A win would be great, and if Demba Ba & Cissé nabbed a goal each it'd make it a bit easier for us 😀
Tactically the Baggies will be disciplined and will work as a unit - a unit which we'll have to work our way through on Sunday.
Being the optimist that I am - I reckon we can sneak it 1-2 or least get a draw!
Comments welcome as always 🙂
⚫️ ⚪️
---
Share Article On:
---
Filed Under: