The forgotten man who has a huge part to play in Newcastle United's Top 4 push
Words by Kevin Doocey on .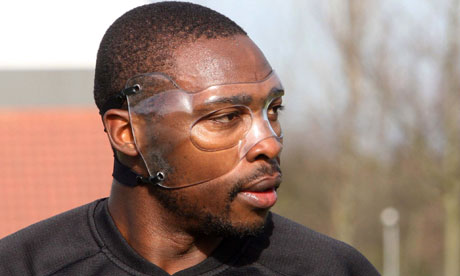 Ameobi - Joint longest serving Newcastle United player in the current squad
While Demba Ba and Papiss Cissé receive nationwide praise for their goal scoring efforts this campaign and rightly so - there is one man who perhaps doesn't get enough credit for his endeavours this season. That man is our joint longest serving player in the squad: Shola Ameobi. There hasn't been a season that's passed when Shola hasn't managed an important goal or two, particularly against Sunderland, but that's a story for another day. This season, Shola has managed a couple of goals, mostly appearing from the bench - but they've been very important goals. Obviously his late, late, late equaliser against the crew up the road is one to remember, however his goal 5 minutes from time at home to Spurs to snatch a point could prove to be the most important of all.
Currently we are tied on points with Spurs & coming into the final four games of what has been a remarkable Premier League season so far - Alan Pardew and co. unbelievably looking to overtake Harry Redknapp's team to secure 4th spot - a Champions League place.
Shola has often been criticised for being lazy, slow. He has been labelled a 'Championship player at best' by a lot of NUFC fans during his time here, but a lot must remember that he wouldn't be at the club for this long if he didn't have something to offer the team.
With Stoke City set to visit St.James' Park on Saturday this is exactly the time of game that Shola could end up winning for us.
It would not surprise me if we are frustrated for long periods of the match, and look to bring Ameobi off the bench around the hour mark to a present a physical challenge to Stoke's back four.
Papiss Cissé & Demba will have a task on hand come KO to try break through Tony Pulis's side, but I suppose alongside Ben Arfa - you probably wouldn't want any of other trio of forwards up against them, than our very own.
It would be very suiting if Shola manages to score the all important goal to secure European football for his hometown club in the next couple of games - you wouldn't begrudge the man the honour.
With the spotlight on Ba, Cissé and Ben Arfa to fire Newcastle United into the Champions League - yes, the Champions League - it wouldn't surprise me if Ameobi, or even the likes of Coloccini/Williamson show up with a goal or two.
Imagine Shola Ameobi playing at the Nou Camp - again. Magic.
Also, gis' this poll a vote, cheers!
⚫️ ⚪️
---
Share Article On:
---
Filed Under: