Will Fabricio Coloccini keep his promise to Newcastle United fans?
Words by Kevin Doocey on .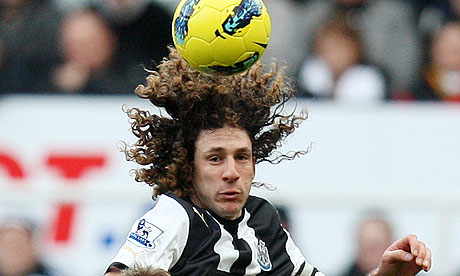 Coloccini - Made a promise to Newcastle United fans a couple years ago
Just over two years ago in an interview with The Northern Echo; Fabricio Coloccini promised Newcastle United fans something quite special if Newcastle United were to play Champions League football some stage in the future. In the build up to our away game against Plymouth Argyle - where we clinched the Championship title - Coloccini made the pledge that he would shave his head if Newcastle United managed to secure a top 4 place in the EPL anytime soon. Both Colo and I'm sure most fans including myself, laughed at the possibility, both of Fab actually lining out without his famous curls, and the day we might see NUFC among Europe's elite. Remarkably, that day is in sight - and should we win the remaining four games in this campaign, we'll be guaranteed Champions League football.
Amazing.
In that interview, Coloccini said:
"People talk about my hair a lot -

Would I shave it off if we got promoted? No, no, but maybe one day.

We should go up, so that is not something I will consider. But I would happily shave it all off if we can qualify for the Champions League.

It seems a very long way off, when you look where we are, but Newcastle are a club with the potential to play in the Champions League again. It would be fantastic, and if it happens, I'll cut my hair off to celebrate.'
Coloccini was right when he said NUFC have the potential to play in the Champions League - but somehow I don't think even he expected such a quick ascent through English football.
Remember, only a couple of years ago we were in the Championship, and smiling from ear to ear at the prospect of Premier League football once more.
All of this and more, makes me glad I support this wonderful club that is Newcastle United.
Can you see Colo bald?
Comments welcome 🙂
⚫️ ⚪️
---
Share Article On:
---
Filed Under: