Newcastle United 'monitoring' up-and-coming Swedish starlet
Words by Kevin Doocey on .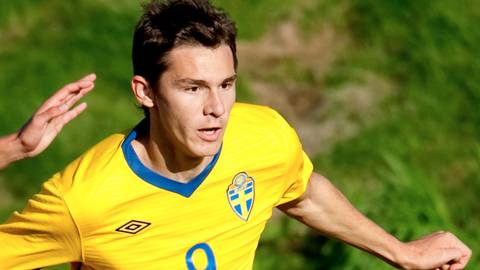 #### Hrgota - Hightly rated in Sweden as a natural goalscorer and future star
It is great to see Newcastle United are scouting for new talent all the time, and the latest to be linked with a move to St.James' Park is a certain Branimir Hrgota. Who is that you might ask, and to be fair, I haven't heard a lot about him before. What we do know is that he is 19 year-old Swedish striker for club Joenkoeping Soedra. According to his stats, he is fond of finding the net, but of course we do not know how high the standard is in that particular league. With that said, there are a lot of people raving about this guy back in Sweden and we're not the only club watching him: Valencia, Ajax and Bayern Leverkusen are also keeping tabs on him.
When asked about the interest in their young starlet, the clubs sporting director had this to say:
'A lot of clubs have been to Sweden to see him,'
'They have not approached at the moment, whether they have been watching I cannot say. He is a natural goalscorer, but not only that he reads the game well. And for his age, I think he is one of the best I have seen.'
That is high praise for the youngster, and it's music to our ears as fans that we're watching him and perhaps lining up a move. I can't imagine the club would demand a huge fee for his services considering the current economic climate and the difference between the Euro and Sterling at the moment could work well in our favour - if Ashley is really intent on getting 100% value!
Either way, Branimir Hrgota is one to watch. Whether he'll play in the Premier League anytime soon we don't know, but it'll be interesting to see where he does end up. Could well be on Tyneside!
Do you know much about him? Tell us in the comments area!
⚫️ ⚪️
---
Share Article On:
---
Filed Under: