Newcastle United midfielder confirms he is leaving in the coming weeks
Words by Kevin Doocey on .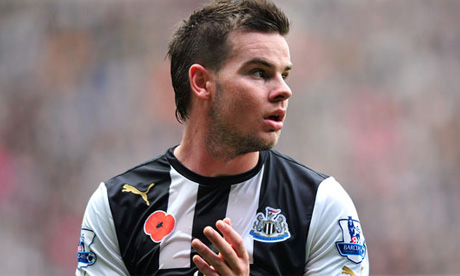 Guthrie - Wants first team football on a consistent basis; not happening at NUFC
If Danny Guthrie's Twitter account is legit, and it does appear that it is - the Toon midfielder has confirmed that he leaving Newcastle United in the coming weeks, to pursue first team football elsewhere. The centre midfielder, who hasn't managed a consistent role in the midfield this season is eager to play week in week out, and unfortunately, that isn't going to happen at Newcastle United. It's a pity really, because Guthrie is a very decent passer of the ball and has a decent strike on him as well. With Cheik Tioté and Yohan Cabaye the two starting men in the centre of the park, with Haris Vuckic and even the likes of Bradden Inman vying for a go in the first team.
This is what Guthrie had to say:
Massive thank you to all toon fans its been great but I have to be playing first team football, the toon will always be in my heart
Danny was an important member is our nPower Championship winning squad a couple of seasons ago and showed up with some important goals. His thumper at home to Leicester City, and a delicately placed a free-kick against West Brom proved vital goals in our promotion push.
We wish him the very best for the future, and I do expect to see him a regular in a Top 12-14 Premier League side.
As much as Alan would like to keep him for back-up, the player has ambitions of his own and full respect to him for that.
Whether this account is fake I'm not entirely sure, as the official Jonas Gutierrez follows it. Either way, it's not far from the truth we'd expect.
Are you disappointed we let him go?
⚫️ ⚪️
---
Share Article On:
---
Filed Under: