Mark Davies would be an excellent signing for Newcastle United
Words by Kevin Doocey on .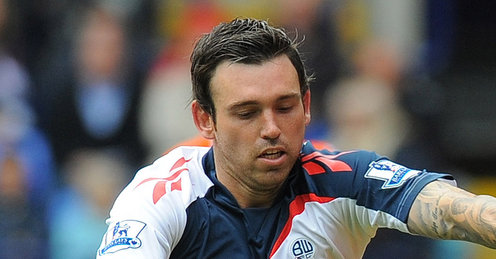 #### Davies - Very talented football that would be a snip at anything under £4m
There has been a lot of talk in the last week or so of Mark Davies joining Newcastle United from Bolton Wanderers. With Bolton relegated to the nPower Championship, Owen Coyle will face a battle to try keep his best players, and although he has managed to sign Kevin Davies to a new deal - the likes of Mark Davies will have Premier League ambitions. On our side, Danny Guthrie is set to leave St.James' Park for pastures anew and we wish him every success with whatever team he joins. There is a need for bodies this summer on Tyneside with European football not very far away and Davies, would be an excellent addition to the team.
From reading around it seems Davies wouldn't be the most popular of signings, instead the majority want to go out and sign another Yohan Cabaye for around £4m. That is extremely hard to do and if we do manage to sign the same quantity of players as last season, of the same quality, and for the same prices then it'll be nothing short of a miracle.
In other words, teams have seen what Newcastle United managed to do. Teams in France will demand higher fees from NUFC, knowing we still have a large chunk of the Andy Carroll money left, however, the great thing is that we have a brilliant reputation in France at the moment. Our reputation among the people of France has multiplied over our treatment of Hatem Ben Arfa and his broken leg - the signings of Cabaye, Marveaux, Abeid, Obertan, etc.
There is plenty of value to be had in England as well, and certainly from some of the relegated sides. It is often tradition that players from the teams that go down are poached by clubs in the Premier League, the lure of bigger wages and better standard of football often the deciding factor.
Davies is a very neat footballer. He knows how to attack, and has a very good passing range - with a little bit of pace as well. Honestly, I think he'd be a brilliant addition to the current Newcastle United setup. He is another midfielder, and would compete with Cabaye for a starting role. Certainly it would be difficult to see where he'd start straight away, but I think he could get quite a few European games under his belt should we progress to the latter stages, and here's hoping we do!
His technical qualities; ability to spot a pass; find space in the middle of the park all make him a very good player and for £3.5m then it's very good value, especially considering he's English. He has only just turned 24 year of age as well - so he ticks all the boxes for the NUFC hierarchy.
Are you all in favour of signing him like I am?
Comments welcome! 🙂
⚫️ ⚪️
---
Share Article On:
---
Filed Under: