This day 3 years ago – A historic Newcastle United moment
Words by Kevin Doocey on .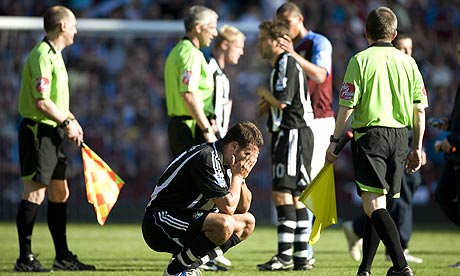 #### Taylor - One of few players that day to show a genuine despair at relegation
Every Newcastle United fan will remember where they were when the final whistle sounded round Villa Park on the 24th of May, 2009. An own goal from Damien Duff, was the only thing that separated Newcastle United from Premier League survival and relegation to the Championship. Gareth Barry took a shot that was heading well off target and it hit Duff on the way only to evade Steve Harper and pop into the bottom corner. This was just minutes after Darron Gibson had scored a stunner for Manchester United to put Hull City in the bottom three. As we all know, the whole of Villa Park taunted and laughed at NUFC's demise, mocking them, and asking where our next messiah would come from.
It's funny how fortunes change isn't it? Villa, were quite lucky that the bottom 3 this year were just of a shocking standard, and McLeish's men just about avoided relegated. It's all quite funny how we finished 11 places ahead of them in the league, outclassing them by a total of 27 points.
Sunderland of course, found it amusing as well which you'd expect. Unfortunately for them, they finished a whole twenty points below us this season, and suffered defeat in their own back yard. Not very nice at all. NUFC have once again reclaimed their 'Pride of the Northeast' status, not that we like to boast about it or anything..
It is amazing to see how much we've transformed as a club, suffering relegation and within two years challenging for Champions League football. Today is a day that we must take a step back and enjoy the fact we're back in Europe and in a very good place.
24th May 2009 - 18th placed Newcastle United relegated from the Premier League
24th May 2012 - 5th placed Newcastle United prepare for European football. 🙂
How times have changed!
Howay The Lads!
⚫️ ⚪️
---
Share Article On:
---
Filed Under: