Have a look at Newcastle United's probable new home shirt
Words by Kevin Doocey on .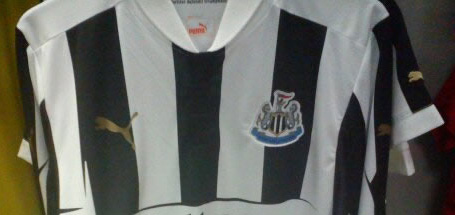 #### Puma - Some absolutely shocking 'designs' on the home jersey for next season
With everything that's going on regards Demba Ba and elsewhere, I thought I might take a moment to have a look at our home kit for next year. Unfortunately, it doesn't make for pleasant viewing. Puma the manufacturers, seem to have put very little effort into their designs and have reverted back to 7 stripes at the front, with a big white blank space in the middle for our sponsors: Virgin Money.
The weirdest thing about it all is however, that (as you can see below) it has some jagged lines towards the bottom which in my opinion at least, looks absolutely terrible and contributes nothing towards the design of the jersey.
Here's the jersey, continued from the picture above: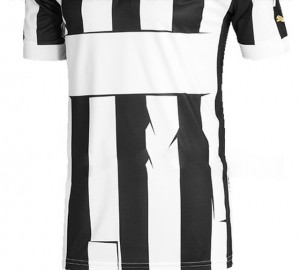 I really do not understand how the likes of these 'designs' get the go ahead. The bottom of it looks appalling bad, and the front part is extremely basic to say the very least. Mind you, it bears some resemblance to this particular home jersey we had not very long ago: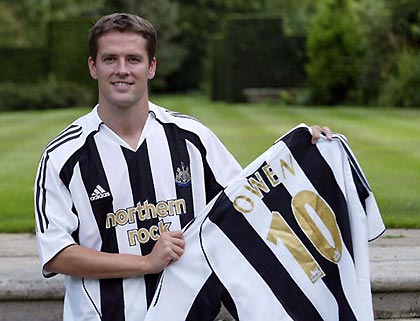 I don't really like the look of the above photo either, for many reasons!
Of course we'll be seeing plenty of our new design, as it'll feature at St.James' Park every time, and numerous times away from home. Maybe we'll get to like it, then again, we don't really have much choice in the matter.
We're hearing that the NUFC official shop is already gearing up the windows for the release of the new home kit, so if you're popping about have a peek in and see if you can notice any 'spikes' or jagged patterns similar to the jersey.
What do you think about it? Are there any fans out there of this new home shirt?
We all know it's far more important what we do on the field, than what we're wearing when we take to it - but it always nice to show off our traditional Black and White stripes in a classy manner.
Comments welcome 🙂
⚫️ ⚪️
---
Share Article On:
---
Filed Under: