Fans special: Get your free end-of-season Newcastle United Wallpaper
Words by Kevin Doocey on .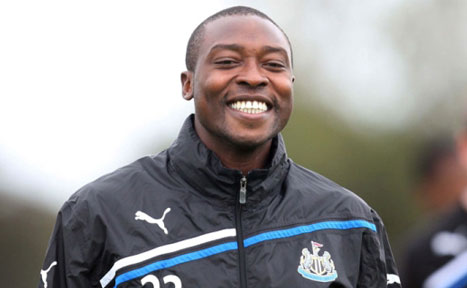 #### Ameobi - Seems extremely pleased with the news of a free wallpaper!
It is fair to say that Newcastle United fans have had to put up with a lot of slack from Sunderland fans in the last couple of years. They laughed at us when we were relegated on the final day of the season in 2009 - despite the fact that SAFC themselves still stood a chance of dropping out of the Premier League that same day. As you know, we regained promotion to the top flight in historic fashion and since then have surpassed Sunderland in every way, shape and form. Our 5th place finish in the season gone by saw us hold a 20 point gap between our rivals, with a whole 8 places separating the sides. Martin O'Neill was hailed a hero for his impact and SAFC fans bemoaned Steve Bruce's effort in keeping up with Alan Pardew and co. despite the fact that the gap between us had actually grown bigger since MON had taken the reigns. Funny aul story isn't it?
Anyway, if you spent any time online in the last few years you would have seen pages and posters proclaiming SAFC as the top dogs of the North-East - even when Newcastle were busy racking up 100pts in the league below.
Since the end of the season, a lot of black cat supporters have kept quiet and I think it might be time to give them some of their own medicine don't you think? Of course, it is important to say that there are quite a few SAFC supporters out there that appreciate NUFC being the top team in the North East of England at the moment, and to them, we tip our hats.
To the others, here's a little wallpaper to remind you of the season we've had.
Newcastle United fans can download this wallpaper simply by entering the link below and right-clicking & saving when shown the content.
Note, TyneTime doesn't usually touch on the matter of SAFC but it's all a bit of fun at the end of the day isn't it? If you give it, you gotta take it too.
To all NUFC fans that download it - it is a token of thanks for your reading, commenting and support since TyneTime started a three year ago.
Cheers,
Doocey.
⚫️ ⚪️
---
Share Article On:
---
Filed Under: