Barcelona after Yohan Cabaye for £8m – Pigs can fly
Words by Kevin Doocey on .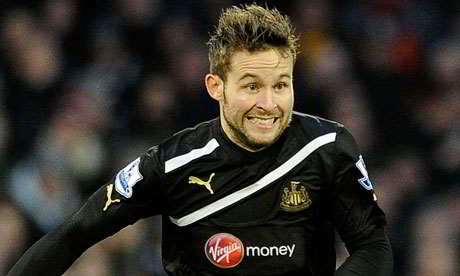 #### Cabaye - Worth £20m at the very least and has no intentions of leaving NUFC
There has been some typically bad journalism from the Daily Mail in the last few years regarding Newcastle United, but they've certainly topped this years efforts with the latest rumour. Today, they linked Yohan Cabaye to Barcelona - for a fee of £8m. First off, why would Barcelona need more midfielders with the likes of Xavi, Iniesta, Busquets and countless others in their ranks, including all their young prospects that will gradually make a move up to the first team. Secondly, Cabaye for £8m?! Without doubt France's best player at EURO 2012, and did a decent job against Spain as well as being inches away from scoring a remarkable free-kick. Some of these stories are absolutely laughable.
Another instance of how little effort the Daily Mail put into their research would be our recent linking with a certain North Korean striker: Jong Il-Gwan. The Jong Il-Gwan stories linking him to Newcastle United were total fiction as later admitted by a bunch of forum regulars as they wanted to prove a point about how some papers will go with any lead at all. Needless to say; the Daily Mail and their 'insider' Simon Jones claimed NUFC were indeed interested in the Korean and rated his chances of arriving at St.James' Park  3/5.
It just goes to show you how much you can trust these tabloids. The only paper and online publication I'd trust is the Guardian, as they are nearly always spot on in their reports, and their articles usually go beyond 150 words unlike the 'paper' above..
Anyway, with that said, Yohan Cabaye and Barcelona is a no-go. Cabaye doesn't want to leave, Barcelona don't need him, and £8m wouldn't pay for right arm. The story is going no where, and neither is Yohan. Certainly not to Barcelona anyway.
£8m for one of the best midfielders in the Premier League last season - I've heard it all.
Comments welcome 🙂
⚫️ ⚪️
---
Share Article On:
---
Filed Under: