Liverpool's £17m valuation of Andy Carroll simply too high
Words by Kevin Doocey on .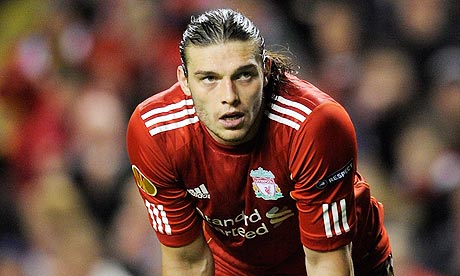 #### Carroll - Wants to come home and his return is a a real possibility
Some things are just perfect. Selling a guy to Liverpool for £35m after only playing three-quarters of a Premier League season, and then finishing above them in the league with their new signing having very little impact, is probably as close as perfect can get when it comes to football. The cherry on top of it all sees Newcastle United coming back in for Carroll in a cut price deal and the player himself, refusing to talk to any other club other than his homeland team. Liverpool: stuck in a rut, much?
The manager who signed Andy in the first place has since been sacked and replaced by a coach who loves to pass the ball around, and have his team play a very fluid type of football. Inevitably, Andy won't see much playing time in this new system, and Brendan Rodgers has already admitted that he is open to the possibility of the £35m man leaving Anfield.
West Ham were linked, but the man in question didn't want a move to Big Sam's side, and can you blame him? It really would be a fall from grace after signing for a record fee, only to find yourself playing with a newly promoted side a year later, that could well go right back down to the Championship again.
If ever a transfer move was written in the scripts - it's Andy Carroll returning to Newcastle United and finding his form again, form that caught Kenny Dalglish's eye enough to splash out seven times what Barcelona parted with for a certain Diego Maradona many years ago.
A loan move had been suggested by NUFC but Liverpool quickly refused any such offer, however they did indicate that a permanent deal could still be arranged. The much talked about potential fee is expected to be in the region of £17m.
A little bit steep for a guy who far from impressed at Anfield to put it mildly.
Realistically, I would be looking to secure a deal of around £13m + Xisco. We can offer cash up front, so no installments over 48 months or performance related add-ons. What we'll offer is what you'll get - straight into the bank account ready for spending.
If West Ham were to loan him, finances would be something of a delicate matter and I'm sure Liverpool would just like to get rid and move on as quickly as they can.
Personally, I would love to see Andy back at St.James' Park pulling on the Black and White stripes. He's still a Geordie, and has a lot to offer. You don't turn into a poor footballer in a few months - Andy just needs proper service and a bit of encouragement, something that he most certainly did not get at Liverpool.
£17m is a tad high for my liking and with Mike Ashley officially in charge of the deal, I don't think we'll dish out that type of cash for him. A maximum fee of £14m could sway the deal and before the start of the Premier League campaign, we could well have Big Andy back on Tyneside after a remarkable 12 months for all parties concerned.
The time has come to bring Andy home, but for the right fee, and for the right wages. He won't be given £75,000 a week at NUFC, probably half that but somehow I don't think Carroll will get too caught up on the aspect of wages; he just wants a return home, and fast.
Do what's right Liverpool - let the lad leave for a reasonable fee and move on.
Comments welcome as always folks 🙂
By the way, make sure you've liked us on Facebook, and are following us on Twitter.
⚫️ ⚪️
---
Share Article On:
---
Filed Under: