Tyne Time Competition: Win yourself a limited edition Olympics camera!
Words by Kevin Doocey on .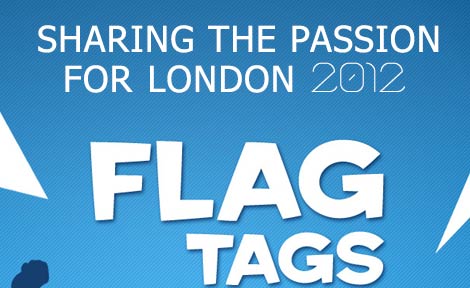 #### Olympics - Team GB will be hoping to please the home crowds in the football
Despite all the issues with security that have been highlighted over the last couple of weeks - London and various parts of the UK are set for the 2012 Olympics. It's sure to be a historic event, with some of the most able athletes from all corners of the world coming to Britain to compete in biggest combined sporting event in the world. This event began in 776AD so to say it's been around a long time is a bit of an understatement to say the least! Anyway, to celebrate the Olympics, and indeed thank you as readers for your daily visits to TyneTime.com - we're giving away a special edition Panasonic digital camera.
Basically, all you have to do to enter the competition is head over to the Panasonic Facebook Page and try out a new app they've created. It really is that simple!
Just follow these steps to enter:
How to create your flag!
Step 1 – Log into your Facebook account.
Step 2 –  Click the Panasonic Flag App link here: Panasonic Flag Tags App
Step 3 – Choose to use a current Facebook picture, upload one from your PC or take a new one with your webcam!
Step 4 – Follow the on-screen instructions to position the flag onto your face. When you are happy, click finish and save.
When you've your picture taken and the flag app tried out - your picture will be shown on a big screen beside Olympic Park! Anyone who fancies wearing TyneTime.com t-shirts for the picture are more than welcome 😀
Regards the camera itself, as far as specs go - it's a very decent model. It supports both video and images and boasts a 14.1 megapixel camera. HD Movie Recording is also a feature it offers. It's a very very decent model to win!
If not for the Olympics - you can bring this camera to St.James' Park or away grounds to take a few snaps of our very own NUFC. Maybe you'll manage to get a nice collection of photos away at the Stadium of Light when we beat Sunderland again? 😀
Anyway, give the app a try (doesn't mean you've to set the picture as your profiler!) and send us the link to your image in the contact box below, along with your address. The winner will be chosen in early September after the Paralympics - but just in time for our Premier League season.
Competition Closed - thanks to all the entrants!
Best of luck to all entrants!
Doocey
⚫️ ⚪️
---
Share Article On:
---
Filed Under: