Shouldn't NUFC be seeking assurances from Vurnon Anita?
Words by Kevin Doocey on .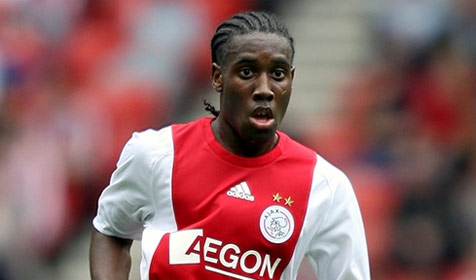 Anita - Wants assurances before he cuts ties with a 13 years affair at Ajax
All I've been reading in the past week is about how 23 year-old Vurnon Anita, wants assurances from Alan Pardew before he completes a £6.5m move to St.James' Park. Other reports I've read is how Anita declared himself happy with a move to Tyneside, and said the type of football Newcastle United play is to his liking. Yet, the deal is still dragging on, and on. I'm beginning to get the feeling that Anita might not be worth all this trouble, especially if the deal isn't done by the weekend. While a fee has been agreed, and Ajax manager de Boer has confirmed he is looking to move to Newcastle United - it seems as if the contract is proving to be a slight sticking point. Sound familiar?
What is clear about the whole Anita deal however, is that Graham Carr rates this guy very highly. So high, that apparently the board are going to break the wage cap rules for his arrival. I for one, do not like the sound of that one bit.
The wag cap in place sees a maximum salary of £45,000 a year on first arrival, with the option of going as far up as £60,000 depending on performances throughout the first half of the season.
I can only imagine that Anita will sign for a wage of £35,000 or so starting off, with the potential of bagging close to double that should he perform in a standout manner. While he may be a Dutch international, and versatile; I don't think we should really be granting this guy any extra privileges.
I am a fan of Anita and I do believe he has every quality to make himself a success in the Premier League, however, I do not want Newcastle United to go down a similar route they did under Freddy Shepherd.
A 23 year-old shouldn't be signing a mega contract straight away, especially when he is unproven in English football, that's my opinion at least.
As well as that, I think NUFC should be seeking assurances from Anita himself if even to let his agent, Raiola, know that this deal isn't all about the player. The good think about this, is that Derek Llambias and Lee Charnley are probably doing exactly this.
They are very good negotiators and more often that not, they get their own way. I'm probably just a bit frustrated it has taken so long.
NUFC shouldn't be dictated to by a player, and to be fair it seems Anita is the first in quite a while to seek assurances on his role at the club. Even Mathieu Debuchy didn't question Alan Pardew's ideas when linked, and hopefully we'll still be able to push a deal over the line for the Frenchman quite soon. There are reports of Chelsea and Inter Milan upping their bids for him in the last two days, but should we match them - Mathieu is heading to one place only, and it isn't Italy or London.
Our progress in the market has been slow, but we are making progress nevertheless.
If we don't have two more new faces before the window closes, I'll be shocked.
Comments welcome 🙂
⚫️ ⚪️
---
Share Article On:
---
Filed Under: