Newcastle United's corners against Villa nothing short of shocking
Words by Kevin Doocey on .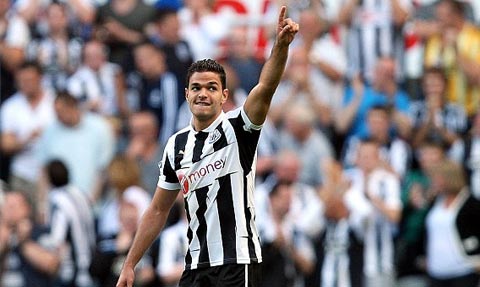 Ben Arfa - Stunning strike to save NUFC's blushes on a below par day for the Toon
I must admit that I didn't see a whole lot of the first half of NUFC vs. Villa as I was busy watching an enthralling encounter between my native Mayo, and Dublin in the GAA. However, I did see Ciaran Clarke's opener and quite a few passages of NUFC's play which was below par to say the least. Clarke's header was a goal that should never have happened, Steven Taylor misjudged the ball in and was caught out. Credit to the Irishman though, he stuck it away well. Villa breaking the deadlock had been coming for quite some time, from what I watched; Darren Bent wasn't too far away from sticking the Villans in front.
I tuned into the second half just before 55&' and the thing I noticed most about our domination of play, was the shocking corner delivery. Cabaye, taking on the left, on most occasions couldn't beat the first man, while the delivery from the right was nearly always far too heavy and gave Steven Taylor, Demba Ba, or anyone else for that matter, very little chance of getting their head on it.
I know Ryan Taylor is probably our best set-piece taker, but I expected much better from Cabaye. It hasn't just been today either - his delivery has been consistently poor since he arrived. The last time I can actually remember us scoring from a corner was away to Wolves early last season. Aimed for the near post where Demba Ba met it and put us into the lead.
Perhaps I'm forgetting some other ones, but they've certainly been few and far between.
Pardew highlighted mid way through last season, the lack of goals from set pieces, and particularly corners. That really makes me wonder how we haven't improved in the slightest even now; especially when it has been a burning issue with the manager.
It's not like we have a lack of players that give a good delivery: Cabaye, Ben Arfa, Marveaux, Taylor etc.
The very fact that Cabaye is such an exquisite free-kick taker begs the question why he can't float the ball into a dangerous area from a corner.
Considering we had a total of 10 corners in the game - surely it's not too much to ask to create a couple of decent chances from them?
Something will be done in the coming weeks no doubt, so I'd expect to see an improvement in the next few games. Maybe we'll even manage a couple of goals from them? Stevie Taylor is due one, as is Colo!
By the way, what a strike from Ben Arfa today. An absolutely sublime goal from one of the most talented wingers in the Premier League.
Comments welcome 🙂
⚫️ ⚪️
---
Share Article On:
---
Filed Under: