Demba Ba set for Liverpool – pigs sighted in full flight
Words by Kevin Doocey on .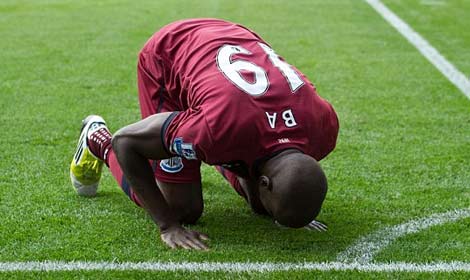 If you were to believe everything in the papers, Demba Ba would have left NUFC in January 2012, then again in the summer and now he'll be set for his third departure in the New Year. As well as that, we'd have been left with Cheick Tioté, Papiss Cissé, Yohan Cabaye, Tim Krul and even Fabricio Coloccini. Sadly, it has come to a stage where it is no longer funny, or even maddening - quite frankly because papers (particularly tabloids) are so desperate for a headline, that they'll regurgitate any old nonsense just to sell a few stacks. Simply by adding 2+2 , they've used the rumours of Demba Ba's apparent unhappiness to link him with a move to Liverpool. Of course including the fact that Demba has a £7.5m release clause which is reactivated in January - they calculated everything and come up with 5.
Ba, who scored another two goals yesterday to grab us a point against Reading is in fine form, and indeed leads the goalscoring charts. Not a bad start, considering Tevez, van Persie and Torres have all played the same amount of games as the man from Senegal.
Liverpool also scored their fair share of goals in a 2-5 victory away at Chris Hughton's Norwich - who are finding it tough to get any form going at the moment.
With all that considered, Demba Ba has today been linked with a move to Anfield and some of the tabloids are pretty confident that a move will go through. Apparently, we are tired of talking with Ba's notorious agents, and are willing to let the guy leave without much of a fight. Sounds very much like NUFC strategy to me, right?
Personally, I cannot see why he'd want a move to Liverpool considering has become a cult hero at Newcastle United. As well as that, is Ba the type of player Rodgers would look to sign? It's much publicised that he needs a goal scorer besides Luis Suarez, but I honestly do not think Ba is the player he should be looking at. Bellamy would've suited his system just fine if hadn't left.
In other words, I'll eat my hat in January is Ba completes a move to Liverpool - but I'll have to buy a hat first, so a move to Anfield is well off the mark in my eyes to say the least. 😀
Comments welcome, what do you make of all the fuss?
⚫️ ⚪️
---
Share Article On:
---
Filed Under: