Newcastle United lambasted for Wonga deal by Southern press – laughable
Words by Kevin Doocey on .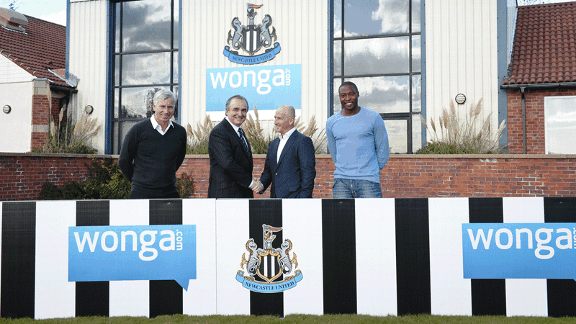 Wonga - Providing the youth academy and city in general with generous funding
Rarely do many media outlets down South write anything relatively warming about Newcastle United as a football club. Through the turmoil, various papers churned out demeaning and arrogant articles about the state of the brilliant club that is, NUFC. Mike Ashley, who to be fair has sanctioned his fair share of dreadful decisions during his tenure as owner, has been criticised for almost every decision he has made in recent times. In the last few days, the club announced that they had agreed a four-year deal with the finance company Wonga , which will see over a £30m intake for shirt sponsorship alone, and an extra few million for the academy, and indeed NUFC foundation.
Wonga are basically a legal loan-shark, there's no doubting that. Their rather excessive interest rate - to put it mildly (over 4000%!) - allows them to profit, ridiculously well. Indeed, so well that they will, as mentioned above, plough almost £40m into Newcastle United,  just on advertising alone.
The money which NUFC will receive is a ground-breaker for a Premier League team of our calibre. The folk up the road at the Stadium of Light earlier this year penned a mightily impressive sponsorship deal, so it is a sign of the times.
Teams are looking to channel money into the club using every possible medium - that's how things have gone.
A quick look at Stoke City, and you'll see a major gambling corporation's logo emblazoned across their red and white stripes. Throughout their homes games, their billboards display the enticing FREEbets you can receive for signing up.
Morally wrong? Without doubt.
Were Stoke City lambasted for the deal? Absolutely not.
Know what point I'm trying to make? I assume you do.
I listened to a TalkSport radio interview with Lee Ryder from the Chronicle yesterday and it struck me how much NUFC as a club are lambasted for almost any half controversial move they make.
The interviewer, who was outright arrogant and incompetent when it came to asking questions, clearly didn't like the sound of Newcastle United pocketing a financially lucrative sponsorship deal like so.
He (the interviewer) portrayed an image of the people of NUFC and the local areas in complete outrage at the deal. Indeed, he focused so much on the supposed outrage of the locals that you would think fires were lit on the Tyne Bridge in opposition to the deal.
Anyone, with the slightest clue will know the deal can only benefit Newcastle United. Who cares if Wonga are the sponsor?
Yes, they are in a dodgy and morally wrong business but then again - aren't all gambling companies, and alcohol producers?
The way in which the TalkSport host spoke, you'd swear that Wonga were the type of company to force people into taking money off them. They are a service, albeit a last resort of sorts, and are optional. Thankfully, not a huge amount of people certainly that I know of, avail of their services.
They are a short-term loan company. Banks are long-term lenders, with a much lower interest rate but of the same principals.
Lee Ryder touched on Liverpool's sponsor: Standard Chartered and rightly so. They are another financial institution who lend money and expect it back, with a little more on top.
Yet, the host of the dubious sports show - and dubious is putting it nicely - continued to ignore all the valid points Lee made about that, and other clubs advertising similar corporations.
When Blackpool, Hearts, Stoke & liverpool were all referred to, the interviewer continued to deflect any counter argument.
Then he went on to suggest that Ryder was laughing at him - pull the other one fella.
It's not that we aren't used to this constant tirade against Newcastle United from almost all Southern media outlets but they are so very wrong on this one.
Another man, Thom Gibbs - who is a pretty respectable journalist - also took to the moral high ground among others to talk down on NUFC and their multi-million pound deal.
The days when football in Britain had a soul are long gone, don't forget that.
Manchester City and their inevitable purchase of the Premier League are extreme proof of that; Chelsea before them. The debate of ethics in football is a no-goer, it's not even worth a thought.
So, all in all, most people need to get over the deal. It will finance a new player or two, and help towards NUFC claiming a Category 1 youth setup. It will help youths find jobs, and did I mention that the stadium is now officially back to its classy title of St.James' Park?
But the deal is a shambles they say..
Comments welcome, as ever. 🙂
⚫️ ⚪️
---
Share Article On:
---
Filed Under: