Newcastle United can't allow this Frenchman to leave as part of Remy deal
Words by Kevin Doocey on .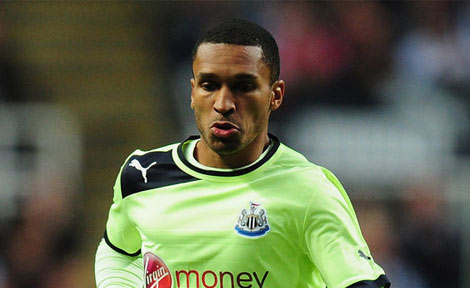 With the talk of Marseille's Loïc Rémy joining Newcastle United in a £10m deal, it is also suggested that one of our French squad members will also sides as part of the agreement. It is rumoured that Sylvain Marveaux maybe the man leaving Tyneside, and I don't think I'm the only one that would be extremely disappointed by his departure. Marveaux arrived on a free transfer from Rennes over a year ago and has slowly but surely established himself at NUFC. Most of his starts however, have come in the Europa League and the general consensus is that he should probably make the starting eleven of our Premier League team, ahead of Jonas Gutierrez.
Jonas Gutierrez doesn't really offer us an attacking outlet nor does he run at defenders which would be ideal. However, saying that, Jonas is a very important team member and people often forget just how important he is. Fair enough he doesn't bag double figures every season, but his general play last season was an example of how he can be turned into a pivotal squad member.
Towards the end of last season Jonas played a deeper role and a more central one, which allowed Ba, Ben Arfa and indeed Cabaye to push further forward. A perfect example of this setup was away at West Brom when we destroyed their back four with quick, fluid movement inside their half. Jonas dropped deep and helped out Santon at LB, while also aiding attacks. In fact, if I remember correctly, Jonas played an integral through ball for our opening goal.
Some of the abuse the Argentinian has received for his endeavours on the field has been pretty shocking, and it only begs the question whether the majority of fans can see the biggest picture or not. Gutierrez isn't going to contribute many goals, and he mightn't even assist many, but what he does do brilliantly is hold up the ball and win his fair share of freekicks. I'm quite confident that you'll find most of the goals we've scored this season have come from down the left, with Jonas and Santon offering an outlet.
With all that aside, this article is about Sylvain Marveaux. To be fair, he hasn't done a huge amount in a Newcastle United shirt, but he is definitely a more pronounced figure compared to last season. He scored an excellent goal at home to Maritimo in the Europa League, and almost made it 2 in 2 when his effort against Swansea rattled the crossbar. In other words  he is finding his feet at St.James' Park and could be ready to hit top form. Indeed, we might soon see what exactly Graham Carr approved on his many scouting missions to France.
Marveaux seems to have a certain flair or class about him, with the ability to spot a pass a little bit quicker than most of our other players, bar Ben Arfa of course. Hatem is just a different class entirely, but Marveaux comes from a similar mold  He may not be as fast or dynamic, but he has an exceptionally astute footballing brain which could see him become an integral part of Newcastle United this season. Some people might not see this in him, but I think he has huge potential and a certain flair about him that could help us in the final third.
Regards Remy, I would be delighted if we signed him. He is a very talented footballer and should Ba depart for pastures anew in January, I think we'll be a better side. Imagine a front trio of: Remy - Cissé - HBA. Lighting pace, and goals. Plenty of goals mind you.
I really hope we do sign the French international as he would set alight the Premier League, and our ailing season. £10m might be a little steep, but rest assured, I am confident that the fee would be €10 not pounds, so again it would work out better in our favour.
Surely Alan Pardew wouldn't be daft enough to let a player out the door, and only bring one in? We need numbers, so adding players is the only option at this moment in time. Obertan and Marveaux have roles to play in reinvigorating our season, and over the Christmas period, I am hoping to see Marveaux given a prolonged run in the starting eleven, and Obertan provided with some first team action aswell.
Queens Park Rangers would be a good place to give Marveaux a starting chance, eh Alan?
Comments welcome as always 🙂
⚫️ ⚪️
---
Share Article On:
---
Filed Under: