Benfica leave St.James' Park with respect after European tie
Words by Kevin Doocey on .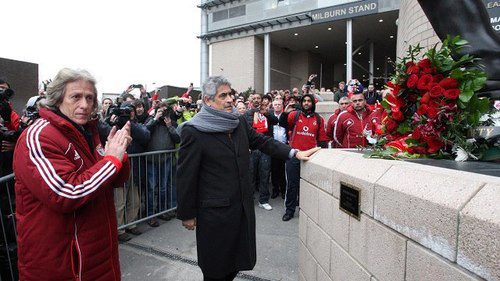 It will take some time for Newcastle United fans to forget that 91st minute goal Benfica's Salvio tapped home to well and truly end our European escapade. The moment the ball hit the net the home faithful put their head in their hands and a sense of realisation set in. Having dominated the most important period of the game and pressured the Benfica back four almost in submission, we just couldn't find that elusive second goal. Our vigorous search for it meant we were left a little light at the back and after some quick exchanges in midfield by the Portuguese outfit Salvio the Argentinian latched on to a low ball into the box to send his side into the European semi-finals. Heartbreaking, tough to take, annoying, perhaps undeserving - all words that could be associated with Benfica's progression to the next round, but at the end of the night George Jesus' side left St. James' Park with the best wishes of the Toon faithful.
I read a lot of great things about Benfica supporters last night. Their packed out allocation ruptured into ecstasy after Salvio's goal, but throughout the game they were noisy; furiously supporting their team on a cold night at St. James' Park. According to plenty, Benfica are one of the betting favourites for the competition, and such support from their fans will be essential in their quest.
Before kick-off, Benfica president Luis Fillipe Vieira paid tribute to Sir Bobby Robson at his recently erected statue outside St.James' park by laying a wreath, accompanied by the club's manager, and other staff and fans.
A simple gesture, but something beautiful all the same. The gent that was Sir Bobby managed both of Benfica's rivals: FC Porto & Sporting Lisbon. That very fact made the gesture from the president - who came to Tyneside and everyone else associated with Benfica - a very heart-warming one.
A lot of NUFC fans are hoping that Benfica actually go on to win the trophy and although Chelsea will likely be favourites for the tournament, support like Benfica's and a gracious, respectful coach in George Jesus, no one would begrudge this particular team in red some silverware.
To conclude, it has been a great European journey. I think we bow out having given everything and it just turned out one of those ties where things did not come together as hoped. From Cissé hitting the post twice, Taylor handballing and Santon's backpass - it just wasn't to be. However, for me at least, there is not a huge feeling of 'what might have been'.
Credit to Pardew, he threw the kitchen sink at them last night and maybe Ben Arfa would have popped one into the roof of the net a few months previous but it was not to be. Football can often be a cruel games folks, as NUFC fans, we know that too well.
Fair play to Benfica fans for coming to support their team and indeed for paying their respects to SBR. Best of luck to them in the next round of the competition, and perhaps we'll face them in a couple of years, except hopefully we'll progress instead!
Comments welcome as always 🙂
⚫️ ⚪️
---
Share Article On:
---
Filed Under: