Derby day passion lost in translation as lifeless NUFC surrender
Words by Kevin Doocey on .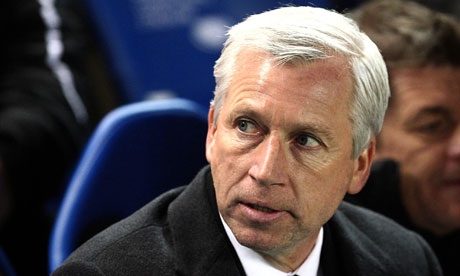 If you told any neutral across Great Britain that Sunderland would romp to a three nil victory at St.James' Park on Sunday many would have laughed off the suggestion. However, when David Vaughan popped in a ridiculous effort from the edge of the area, you just knew that it was one of those days. High up in St.James' Park, the travelling Mackems could hardly believe their eyes, a three nil victory away at their fiercest rivals. When the final whistle sounded around a packed out stadium, reality set in. From the European Quarter Finals to the lowest of the low: a loss to Sunderland. While it might sound like SAFC were dominant winners throughout the game, things could have been different should Papiss Cissé's wrongly disallowed goal been awarded, but then again, we'll never know.
What I do know - and we found out far too late - is that the French contingent on Tyneside did not understand what such a fixture meant to the city of Newcastle. Yanga Mbiwa, Yoan Gouffran, Moussa Sissoko - it was something new for them, but they didn't seem to care very much about it all once the second goal went in, in stark contrast to Steven Taylor who was a mix between revved up, shocked, and distraught.
Let's be honest - Sunderland were deserving winners. They played a counter attacking game that reminded me of Newcastle's away performance against Swansea last season. Their pace through Sessegnon, Johnson caught us out and in the end three brilliant, individual goals sunk any limp effort we put up throughout the ninety minutes.
There were quite a few things that annoyed me during the game. Cissé's inability to stay onside, Pardew's arrogant premature celebration, and finally, the amount of respect our back four gave the SAFC attacking trio.
Pardew's celebrations of recent times have been labelled as 'passionate' and there is no doubting the fact that Alan is an extremely passionate manager, however, enough is enough. Himself and Woody made a fool of themselves yesterday with their goading of Pablo di Canio on the sideline when Cissé had seemingly drawn things level.
As much as di Canio may not be a popular figure outside of Wearside, he still celebrated his side's goal with passion, in the opposite direction of Pardew and the backroom team. The Italian slid, fist pumped and exerted his passion in the direction of his own support, exactly what Pardew should do - like he did against Fulham a week before. Celebrating with your own fans makes more sense doesn't it?
Whatever about passion, his celebrations in countless matches ushering towards the oppositions bench is outright stupid, arrogant and annoying. Grow up.
Hopefully both sides will stay in the division and we can lock horns again in a few months time. More importantly, I hope the French lads will be drilled on the importance of the fixture for next season and warned that they will face dropping if there is a repeat of the lifeless, pathetic effort that unfolded on Sunday afternoon.
Either way, it was a disappointing day for Newcastle as a whole, not helped by the handful of shameless hooligans that vandalised the city and caused havoc. I don't think I'm the only one in saying I hope these 'supporters' face the full wrath of the law after their shenanigans.
Onward and upwards please.
Comments welcome as always 🙂
⚫️ ⚪️
---
Share Article On:
---
Filed Under: