Alan Pardew will stay on as Newcastle United manager
Words by Kevin Doocey on .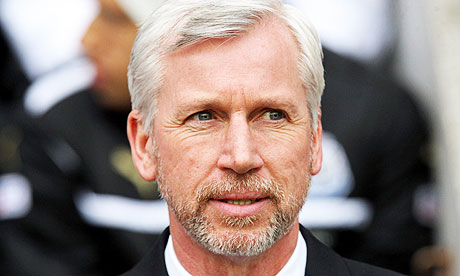 Back at the start of December 2012, a couple of days after Newcastle United had fielded a side with Nile Ranger up front away at Bordeaux in the Europa League, a survey was carried out. The question was simple, is Alan Pardew the man to bring Newcastle United forward as a club? 95% of voters claimed he was. Fast forward five months and NUFC have staved off the threat of relegation, just about. Anything I see on Twitter is usually negative towards Pardew, but Brian McNally - the Mirror's North East correspondent - claimed last night that from his gatherings, support of Pards was now at 50%. Half want him gone, the either half think he is the man to bring success to Tyneside. Regardless of what we think, the Chronicle have today revealed what we probably expected, indeed that Pardew is likely to continue as Newcastle United manager for another season at least, ticking one more year off his figurative 8 year deal. Everyone will mention how bad our performances have been towards the end of the season and rightly so, but the optimists among us will also revert to the fact Manchester United held on to Ferguson after a very poor season by their standards, and the rest we know is history; history that usually includes MUFC's name on the Premier League trophy umpteen times.
I must admit, towards the latter stages of this campaign, I was fed up of Pardew. His exaggerated, often premature celebrations looked stupid, while his tactical ploys were every bit as bad. He oversaw a 0-3 defeat Sunderland at home, then a 0-6 mauling by a young Liverpool side, however, he was keen to emphasise that his side collected valuable points on the road at West Bromwich Albion, West Ham United, and yesterday, QPR — all teams with nothing to play for at this stage of the season, but why ruin a good story?!
Mike Ashley was present yesterday and seemed a pleased man, but at the end of the day people will expect him to make a decision: stick or twist? It seems very likely that Pardew is staying on as manager, and personally it does not disappoint nor enthral me. It means stability, and should Alan take charge of our first Premier League game next campaign, he will one of the longest serving managers in the league which just goes to show how volatile the EPL has become.
We need stability, but we need tactical prowess and Pardew needs to adapt. There were stages of the season where we passed the ball around really well and dictated play, hopefully we can work on that over the summer and settle as a good passing side, something which will reap rewards eventually, just have a look at Swansea and Wigan..
Either way, Pardew seems the man that is staying but he needs to wise up in more ways that one if he wants to be gaffer of this club come Christmas 2013..
Also, do us a favour and watch the Budweiser's FA Cup Fan Film - To The Dreamers' at the top right of the page, it is a really good video about the passion of the FA Cup from the fan's point of view.
Comments welcome as always, are you happy with Pardew?
⚫️ ⚪️
---
Share Article On:
---
Filed Under: