Scott Sinclair would be a positive signing for Newcastle United
Words by Kevin Doocey on .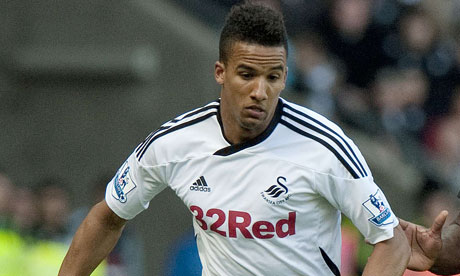 There are quite a few reports swindling around regards Scott Sinclair and Newcastle United. A certain bookmaker have confirmed that the odds on Scott Sinclair heading to Newcastle United as his next club has been slashed from 20/1 to an odds on of 1/4 - meaning that a rather serious amount of money has been placed on the ex-Swansea man being a NUFC player for the coming season. I'm almost positive that such betting does not count for loan deals either - permanent moves only. Of course one can never get too excited about bookies and their activity, but it takes copious amounts of cash to drive a price down by that much, meaning someone knows something. Officials at St. James' Park have denied any knowledge of the deal, and that might very well be the case - however; the money being placed on his next club could very possibly be coming from the Manchester City side which of course is Scott's current club.
We all knew that when Sinclair moved to the Etihad, he faced little chance of commanding a starting role and that has certainly proven to be the case. The only reasons he actually made the move was to bolster Manchester City's number of English players - in turn fulfilling the requirements of a 25 man squad.
I for one would very much like to see Sinclair at Newcastle. He has pace among other things, and would fit in nicely in an already dynamic Newcastle United forward line (although last season did not show such attributes). He's young, British and would likely take a significant wage drop to join us for first team football.
If you were to believe online betting trends then Sinclair is all set to be wearing the famous Black and White stripes next season courtesy of collaboration between Graham Carr, Joe Kinnear and Alan Pardew. There remains quite a distance between him actually joining, but I'm quietly confident. No smoke without fire and all that.
He fits the transfer blueprint on Tyneside and shouldn't demand anything more than £6m to lure him away even with the long-term contract that has only finished its first year at Manchester. Since Mancini is gone, Pellegrini seems to want rid and I'd certainly be keen on taking him on board despite his supposed medical conditions.
What about you folks, a wise acquisition if we sign him?
Tell me in the comments, and make sure to follow Tyne Time on Twitter @TyneTime for all the breaking news.
⚫️ ⚪️
---
Share Article On:
---
Filed Under: