Dan Gosling asked to play to Alan Pardew's tune
Words by Kevin Doocey on .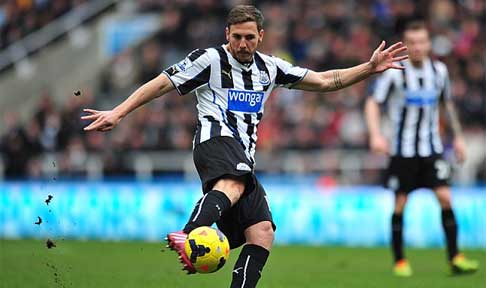 If you had told any Newcastle United fan in September that come the end of the month of April, 2014, Yohan Cabaye would be plying his football in France, and Dan Gosling would be his replacement in midfield, then I think there would be a few raised eyebrows. Unfortunately that is exactly how things have panned out at St. James' Park. Mr. Gosling has made a dramatic return to the first team and on Monday night he started yet again in a midfield that might have as well stayed back on Tyneside as Arsenal romped to an easy three nil victory. The worst thing is, as many others have alluded to - it's not one bit surprising. The lack of creativity, confusion on the ball and indeed the real absence of any game-plan marked a dour evening in London. To make things worse, our manager Alan Pardew continued to baffle his critics with a deplorable post-match interview that summed up his 2014 as boss: clueless.
Dan Gosling is a decent little footballer, but his rise to the first team in recent months has been rather questionable to say the least. It makes for even worse viewing when Hatem Ben Arfa is left out the squad. Despite that, Gosling is trying his hardest in a Newcastle jersey, and you cannot fault him for that. After all, he is fighting for his future at the club, or in the likely case, trying to earn a stay in the Premier League.
The real issue I have, is the constant publishing of scripted interviews with players. It is clear as day that each of them are well briefed by the club on what to say. It usually touches on an acceptance of poor performance, appraisal of the fantastic NUFC support, and finished off by a urgency to return to form.
We have heard this for weeks, and its evident that they speak a wholehearted truth - evident by a sixth defeat in a row last night, right?
Here is what Gosling had to say after the game:
'Ultimately it's the eleven players who cross the white line that need to do the job and we didn't do that. 'The fans have been tremendous all season and we always get a good travelling army. At home on Saturday we need them more than ever We need them to push us over the line and we need to get three points as well.'
What a load of spoof. You could easily swap Pardew's name in for Gosling's and it would still stick. The common buzzwords of: 'fans have been tremendous'..'need them more than ever'..'over the line'..
If anything is clear apart from the obvious that Alan Pardew needs to be relieved of his duties as manager - its that Gosling has been clearly asked to play to the tune of his manager.
I apologise for the sheer amount of doom-mongering articles on this site of late, but if there was any hint of positivity from our recent form, I would concentrate on it. However, things are just plain awful at the moment.
Comments welcome as always.
⚫️ ⚪️
---
Share Article On:
---
Filed Under: