Are Newcastle wasting their time in Bafetimbi Gomis chase?
Words by Kevin Doocey on .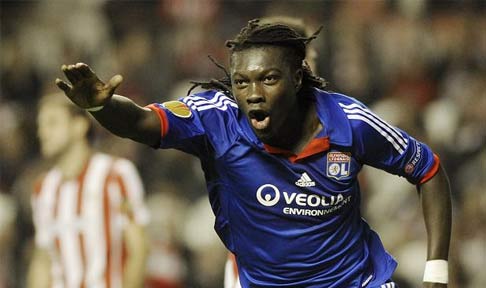 Newcastle United's interest in Bafetimbi Gomis dates back before 2008 when the club looked to sign him before the European Championship however he eventually made the short move to Lyon, from St. Etienne. Fast forward six years and under much different management, Newcastle are still eager to bring him to Tyneside. Last summer's transfer window saw the club come close to signing the Frenchman, but eventually the move fell apart due to a mixture of greed on part of Gomis' agents and indeed then Director of Football, Joe Kinnear's inability to recognise the fashion in which the modern transfer market operates. As we approach the 2014 World Cup, NUFC are hoping to secure some quick moves and once again Gomis seems to be near the top of the list. This makes me wonder, how good do both Newcastle and indeed the four other Premier League clubs really believe Bafe can be in the top flight of English football?
If I am to be completely honest, I cannot see what the fuss is about. I know Gomis is available on a free transfer which will obviously appeal to multiple clubs. He has vast Champions League experience, and has found the net in Ligue 1 on countless occasions, ending this season with a total of 14 in an average season for Lyon. I suppose when you consider it all, he does has an impressive resume, and represents a valuable free agent.
Despite that, since our name has been linked with Gomis - there has been nothing but confusion and miscommunication. Almost every Newcastle fan was sure that he had signed last year, but alas, the club never managed to get it 'over the line' hindered by both Kinnear and indeed unprofessional behaviour on the side of the French club.
Let's be honest though - there are better forwards out there that would be willing to make the move to Newcastle. Bafetimbi Gomis isn't the best of investments when we consider the mandate the Newcastle recruitment team are known to operate to. He is 28 years old, and - according to reports - seeks rather extravagant wages for someone who is unproven in the Premier League.
I would like to see Graham Carr, Norman Wooster and the team to focus their efforts elsewhere, because, if you ask me, we'll be left disappointed if we concentrate on trying - yet again - to lure the powerful forward to St. James' Park.
What do you think? Are the club right to be pursuing Gomis so strenuously, or should be drop interest and look to bring in younger, and arguably better talent? Comments below please, and make sure to follow me on Twitter [@KevinDoocey](https://twitter.com/kevindoocey "kevin doocey twitter").
⚫️ ⚪️
---
Share Article On:
---
Filed Under: