Alan Pardew's desire to flog Mapou Yanga-Mbiwa is worrying
Words by Kevin Doocey on .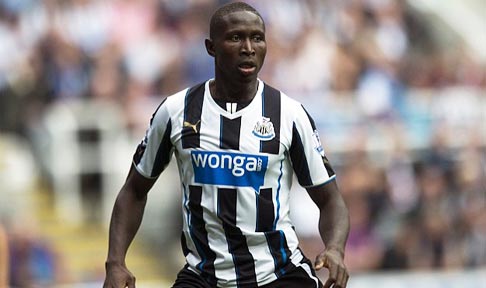 It is not often that a Ligue 1 winning captain would turn down Champions League football to aid a battle against Premier League relegation with Newcastle United. However, that is exactly what Mapou Yanga-Mbiwa did when he left Montpellier to join the Toon. In a reported £8.5m move, the 25 year-old signed the dotted line on a cold January afternoon at Benton with the hope of becoming a leading star in Newcastle's back four. 37 appearances later, manager Alan Pardew is looking offload France international for a reduced fee with plenty of French clubs eager to take him. Of course such a defender would have plenty of suitors - after all, he captained a league winning side, has represented France on 3 occasions to date, and likely has his best years as a defender in front of him. The intent on behalf of NUFC to rid themselves of Mbiwa - who is well reported to be an absolute professional both on and off the pitch - is alarming to say the least.
Such a case would be less worrying if Yanga-Mbiwa had a terrible time since joining, but that is not true, because sadly, Mapou has had little chance to show his worth in a Newcastle United shirt. When he has played, it has often been out of position - a recurring theme with Mr. Pardew.
However, when placed at centre-back, Mbiwa has been sublime . Performances against Chelsea and indeed Tottenham last season showed why Mike Ashley had indeed dished out his biggest fee on a player since the arrival of Fabricio Coloccini. There is no doubting that the Frenchman has looked a little frail at times, but he needs/needed time to settle in the Premier League. Only regular games will ensure this, something that has no happened.
It can be easy to blame a player for failing to adapt to the English way after a big money move, but the truth is, the coaches at Newcastle United have a lot to answer as well. It is their job to ensure a smooth transition from foreign football to the Premier League. Obviously, this has no happened - and the defensive coaches, alongside Pardew deserve blame. As with both sides of the argument, there is only so much a player can do to adjust on his own.
For anyone who follows me on Twitter, they will know that I think the idea of selling Yanga-Mbiwa is a complete joke. The manager should have gone a long time before an exit for Mapou had ever been considered. There is no way that the 25 year-old has transformed from a league winning captain to a bang average defender.
The fact that a cash-strapped Marseille have enquired about his availability says it all.
Worrying is just one word for this debacle.
P.S - If you're collecting the infamous World Cup stickers this year, then I advise you to enterTyne Time's competition. 3 prizes to hand-out, including a generous offering for the winner. Make sure to enter.
Comments welcome as always!
⚫️ ⚪️
---
Share Article On:
---
Filed Under: