'Relieved' Mike Ashley will be in for a shock in the near future
Words by Kevin Doocey on .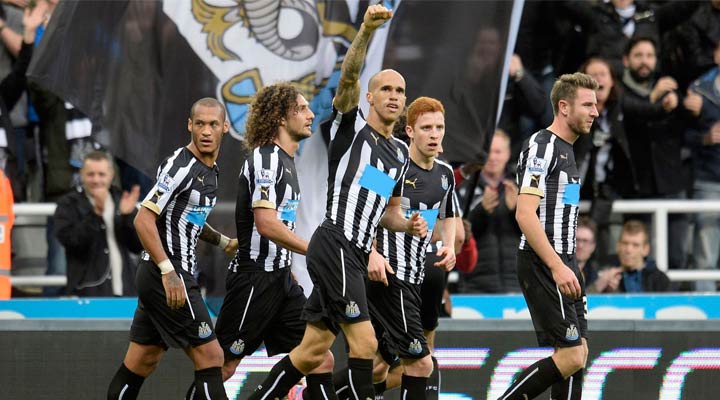 I couldn't help but have a good laugh to myself when I heard that Mike Ashley had visited the home dressing-room after Saturday's 1-0 victory over Leicester City to congratulate the players on securing their first Premier League win of the season. It just proved to countless NUFC and myself - something we already knew: Mike Ashley has no understanding of the game. When Leicester City failed to take their chances in front of goal and Gabriel Obertan eventually went on to score a fine solo effort to secure all three points, it was an almost embarrassing victory. I don't mean that in any disrespect to Leicester City, but the fashion in which Alan Pardew's side went about securing victory had me shaking my head in disbelief.
I know there was quite a bit of pressure on the players throughout the 90 minutes, and they gave everything — so credit to them for securing all three points. As well as that, the home support was nothing short of fantastic, although this has always been the case.
There was full support for the players, and no obvious protests against Pardew, Saturday was all about the result, and to think the mass media regard us as deluded..
Turning Point?
Not even close.
Don't get me wrong, it was great to secure three points on Saturday, but the performance wasn't very good. If Leicester City had shown any potency in front of goal whatsoever, then I think we'd be looking at another defeat. True Papiss Cissé had an open goal that might have swung the game, but overall it was turgid stuff.
In fact, Obertan's goal came from a sustained period of pressure from the visitors. The Frenchman broke forward before rounding a defender and slotting past Kasper Schmeichel in impressive fashion. In his last two games, Gabby has assisted one, and scored one. Credit where credit is due - that's more like the player we want to see.
What caught my eye and had me shaking my head was when a number of Newcastle players made a dart for the corner flag with five minutes of normal time remaining.
1-0 up at home against a newly promoted side with 85 minutes gone and we head to the corner flag to waste time. There are no words.
Mike Ashley's dart to the dressing-room:
MA's visit to the dressing-room was quite significant, no doubt about it. This is the first time he has went beyond the chairman's suite into SJP. Apparently he was delighted, and spent 10 minutes congratulating the players. He was said to be a relieved man.
If Ashley actually thinks this is the end of the threat of relegation, then he is sorely mistaken. Saturday's result was much-needed, but tough fixtures lie ahead, and I have no doubt that this club will suffer more depressing defeats under the managerial reign of Alan Pardew.
This is far from over, and come November & December when we face superior opposition, Ashley will be a worried man and Pardew will once again become under increasing pressure on the sidelines.
I hate writing about this great club in such a depressing tone, but I don't get much joy out of Newcastle United anymore, in fact, I found it hard to appreciate Obertan's goal on Saturday. As long as Alan Pardew is manager, this club is going nowhere fast.
⚫️ ⚪️
---
Share Article On:
---
Filed Under: