Newcastle United set for most exciting summer transfer window in years
Words by Kevin Doocey on .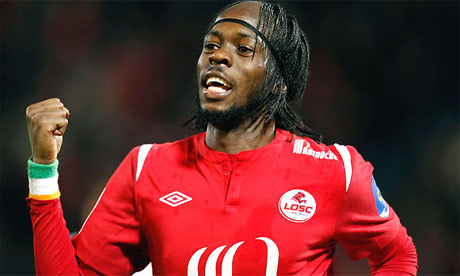 Gervinho - Wouldn't be too surprised if he doesn't arrive on Tyneside
I'm sure that most the Premier League are aware of the Gervinho scenario by now. Over a week ago he was meant to have signed for Newcastle United, alongside Yohan Cabaye. The funny this is: neither have signed officially yet however, Cabaye is expected to be revealed holding our new 2011/12 jersey as early as tomorrow. I am also quite sure that most internet friendly NUFC fans will have wandered on to Twitter at some stage, whether it's been to follow us or indeed keep tabs on the many rumour 'merchants' flooding the Newcastle news scene lately. There is one particular guy on Twitter, who keeps insisting that we have signed both of the Lille players and it's a matter of time before they are revealed. I still find it quite hard to believe that Gervinho is set for Tyneside, considering he is leaving Champions League football behind. Mind you, as we've all read yesterday; he has confirmed that he is heading to the Premier League to ply his trade. The main question is however - what club will he be signing for?
I would love to say that it is us, but I am still very dubious. Quite frankly: it wouldn't surprised me one bit if Tottenham, Liverpool or even Arsenal unveil the African in the coming days. It has happened many a time where fans of this club have been set for a big signing, a coup if you like: only to see Harry Redknapp standing beside him, grinning away.
From a quick think, the following players have all been linked to us, and mentioned as pretty much 'done deals':
Gervinho
Yohan Cabaye
Kevin Gameiro
Charles N'Zogbia
Cheik M'Bengue
Boukary Drame
Neil Taylor
Ryad Boudebouz
Realistically speaking, I do believe that Cabaye, Taylor & N'Zogbia could well all sign for NUFC in the next few weeks - it wouldn't surprise me. We've heard from Cabaye himself declaring he is set for a move to St.James' & indeed a blunder by the site manager at nufc.co.uk points very much to the fact that he as good as ours.
The other Frenchman N'Zogbia is supposedly desperate for a return to the North-East and if you believe some of the tabloids out there; he is willing to reject Liverpool in order to get back to Newcastle. I for one would love to see him pull on a Black and White shirt again.
As for Taylor - it's touch and go but with Jose Enrique seemingly set for a move away to Liverpool as we suspected he might way back in the start of February, the Swansea LB could well be lined up as an immediate replacement. Young, and with bags of ability, for a fraction of the cost of the Spaniard - I won't complain although I would love to have kept Jose all the same.
Many other journalists from the North-East have Tweeted some encouraging stuff, and have suggested that we are in for a positive transfer window at St.james' - possibly the biggest and most exciting we've had in many many years.
Add to that the fact that the great John Carver has come out and told the papers that they want to recruit players that will 'put bums on seats' if I remember correctly.
All wishful thinking you might say - but I'll remain optimistic yet realistic.
It wouldn't surprise me one bit if Kevin Nolan, Joey Barton, Alan Smith, Jose Enrique and even Nile Ranger depart Tyneside. With that said - I would be even more surprised if we brought in four players from the above list.
We need new players badly, and if we did happen to manage 3 or 4 of those mentioned with us, then I would be quite happy come August.
What do you guys think?
Comments welcome as always 🙂
⚫️ ⚪️
---
Share Article On:
---
Filed Under: