Newcastle United stand a very good chance of landing Charles N'Zogbia
Words by Kevin Doocey on .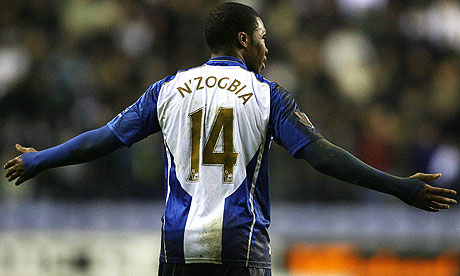 N'Zogbia - Seems like he wants to return to St. James' Park again
I must admit; I wasn't really that disappointed to see Charles N'Zogbia depart Newcastle United on January 3 years ago and in fact, was excited at the prospect of capturing Ryan Taylor. Taylor, who just couldn't stop scoring against Newcastle each season had indeed nabbed a very important goal in that very season, a spectacular free-kick if I remember correctly. Anyway, things changed massively and we were relegated to the then Coca Cola Championship, and N'Zogbia began playing out of his skin ever since he joined the Latics. However, in the summer of 2011; there are strong rumours that we could very well be on the verge of completing the resigning of the Frenchman, for a fee of double figures.
I'm a big fan of Charles - he has pace, ability and scores a considerable amount of goals. In all reality, with no offence to Wigan Athletic fans: N'Zogbia single-handedly kept them in the Premier League this season. His last minute winner at home to West Ham was probably the most important goal ever scored for Wigan, and it proved to be a very very important 3 points. Three points that saved their season.
However with that all said, I'm sure the Frenchman doesn't want to go through that all again, and would prefer to play in a stadium at least three quarters full. Although he left on somewhat harsh terms at Newcastle, he reportedly still holds a very soft spot for the Magpies and would be more than willing to pull on the Black and White shirt again.
All of this is encouraging news for fans of Newcastle but we must remember that a lot of the bigger teams will be battling for his signature as well. Liverpool, and maybe even Arsenal are sure to try their luck but if rumours are to be believed, he only has his heart set on a return to Tyneside.
Mind you, it wasn't very long ago that N'Zogbia was all set for a move to Birmingham City, after Alex McLeish's side had an improved offer accepted. However, contract negotiations broke down and the move collapsed. I bet he's glad he didn't switch over to St.Andrews after all!
I honestly believe we have a decent chance of signing him, perhaps a more than decent chance.
£10m or so will get him for sure, and he's still quite young with a lot of offer down the wing. I actually remember his debut at St.James' - I knew that Bobby Robson had signed someone of quality. In fact, the great Robson labelled the Frenchman as 'one of the most naturally gifted players of that age I'd ever seen'. That I tell you is a compliment of the highest degree.
Hopefully we can agree terms and he'll be back at Newcastle United very soon. N'Zogbia, Ben Arfa, Cabaye would make for a very French midfield indeed!
In other news, as I had suspected/guessed in my last article on Gervinho - Harry Redknapp was sniffing around the African, yet the media had absolutely no word of it today. Tottenham had a bid rejected, and it had been the only bid Lille received for that player so far, posing a bunch of new questions altogether.
Realistically speaking, we have more chance of landing N'Zogbia - if we're luck that is..
Comments welcome as always 🙂
⚫️ ⚪️
---
Share Article On:
---
Filed Under: